AI in Marketing: Deep Dive into Advanced Analytics
In today's fast-paced digital world, data is the cornerstone of effective marketing. Traditional metrics, while essential, often fall short in providing the depth and granularity required to truly understand consumer behavior and market trends. Enter AI-driven analytics—a transformative approach that leverages artificial intelligence to delve deeper into data, offering insights previously unimaginable. This article explores the world of AI-driven analytics, highlighting its significance in modern marketing, its benefits, challenges, and the future it promises. As we journey beyond basic metrics, we'll uncover the profound impact of AI on marketing analytics and how businesses can harness its power for unparalleled success.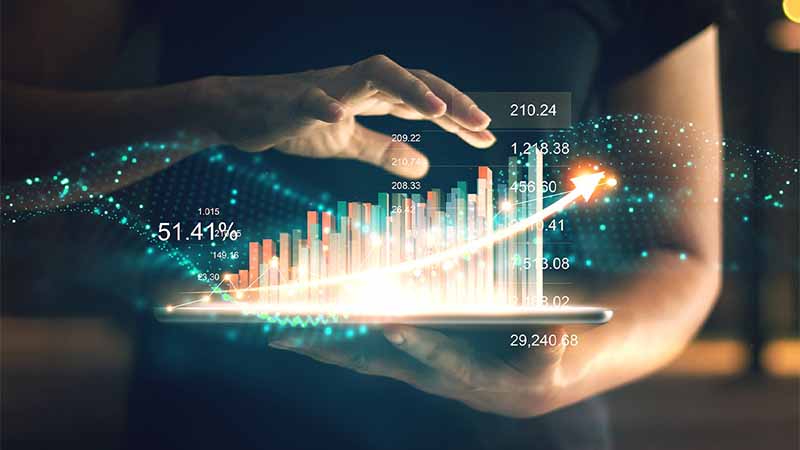 Introduction to AI in Marketing Analytics
In the evolving digital landscape, AI-Driven Analytics for Deeper Marketing Insights has become a game-changer. By moving beyond basic metrics, businesses can now harness the power of artificial intelligence to gain a deeper understanding of their marketing efforts, ensuring more informed decisions and better outcomes.
The integration of AI into marketing analytics has opened doors to predictive modeling, real-time data interpretation, and personalized customer experiences. As businesses grapple with vast amounts of data, AI provides the precision and efficiency needed to make sense of it all.
Furthermore, with AI's ability to learn and adapt, marketing strategies can evolve based on real-time feedback, ensuring that businesses remain agile in an ever-changing market landscape.
The potential of AI in marketing analytics is vast, and as technology continues to advance, we can expect even more sophisticated tools and solutions that will redefine the way businesses approach marketing.
The Rise of AI-Driven Marketing
Artificial intelligence (AI) marketing combines AI technologies with customer and brand experience data. As AI marketing is set to drive a significant portion of the global economy in the coming years, businesses are rapidly integrating AI-driven strategies to stay ahead of the curve.
The integration of AI in marketing is not just about automation; it's about enhancing human capabilities. With AI, marketers can identify patterns and insights that might be invisible to the human eye.
Moreover, AI-driven marketing tools can optimize ad campaigns in real-time, ensuring that businesses get the best return on their investment. This level of optimization was previously unattainable with traditional marketing tools.
From chatbots that provide instant customer support to predictive analytics that forecast market trends, AI is setting new standards in the marketing domain.
Benefits of AI in Analytics
AI for analytics automates the work of data analysts and scientists. By using AI, machine learning, and algorithms, businesses can analyze vast amounts of data, make data-based decisions, improve efficiency, and gain a competitive advantage.
One of the most significant benefits of AI in analytics is its ability to provide real-time insights. This means businesses can react promptly to emerging trends or issues, ensuring they remain agile and responsive.
Additionally, AI-driven analytics tools can predict future consumer behavior, allowing businesses to tailor their marketing strategies accordingly. This level of foresight can be a game-changer in a competitive market.
Furthermore, with AI's ability to process and analyze vast amounts of data quickly, businesses can make more informed decisions, ensuring that their marketing strategies are always optimized for the best results.
Predictive Analytics and AI
Predictive analytics is a statistics-based method to predict future outcomes. While AI is autonomous, predictive analytics often requires human interaction. Combining both can optimize campaigns and improve ROI, offering businesses a comprehensive view of potential future scenarios.
Predictive analytics, when powered by AI, can forecast market trends, consumer behavior, and even potential challenges that a business might face. This foresight allows businesses to be proactive rather than reactive.
Moreover, the combination of AI and predictive analytics means that businesses can continuously refine their predictions, ensuring that they remain accurate and relevant.
In the world of marketing, this combination means that businesses can tailor their marketing strategies based on predicted future trends, ensuring that they always stay one step ahead of their competitors.
Challenges in AI-Driven Analytics
Despite its advantages, AI for analytics presents challenges like data security, bias, and technical complexity. However, with the right expertise and resources, businesses can navigate these challenges and harness the full potential of AI.
Data security is a significant concern, especially with the increasing number of data breaches in recent years. Businesses need to ensure that their AI-driven analytics tools are secure and that customer data is protected at all times.
Another challenge is the potential for bias in AI algorithms. If not properly trained, AI can perpetuate existing biases, leading to skewed results. It's crucial for businesses to be aware of this and take steps to ensure that their AI tools are as unbiased as possible.
Lastly, the technical complexity of AI-driven analytics means that businesses need to invest in training and resources. However, the benefits of integrating AI into marketing analytics far outweigh the challenges.
AI Tools for Enhanced Customer Insights
AI tools, such as machine learning and natural language processing, empower businesses to delve deeper into customer behavior, sentiment, and preferences. These insights enable marketers to tailor their strategies, ensuring more personalized and effective campaigns.
Machine learning, a subset of AI, allows systems to learn from data, identify patterns, and make decisions with minimal human intervention. This capability is invaluable in understanding customer preferences and predicting future behaviors.
Natural language processing (NLP) enables machines to understand and interpret human language. In the context of marketing, NLP can be used to analyze customer feedback, reviews, and social media mentions, providing a wealth of information about customer sentiment.
By leveraging these AI tools, businesses can gain a holistic view of their customers, understanding not just their behaviors but also their motivations, preferences, and pain points.
Real-Time Insights with AI
One of the standout features of AI-driven analytics is the ability to deliver real-time insights. This immediacy allows businesses to react promptly to emerging trends, ensuring they remain agile and responsive in a dynamic market.
Real-time insights mean that businesses no longer have to rely on outdated data. They can make decisions based on the current market scenario, ensuring that their strategies are always relevant.
This capability is especially crucial in industries where trends change rapidly. Being able to adapt in real-time gives businesses a significant competitive advantage.
Furthermore, real-time insights allow for immediate course correction. If a particular marketing strategy isn't yielding the desired results, businesses can adjust on the fly, ensuring optimal outcomes.
The Future of AI in Marketing
The future holds exciting possibilities for AI in marketing. With advancements in computer vision and the analysis of non-text digital data, AI will continue to revolutionize the way businesses approach marketing, offering even deeper insights and more refined strategies.
Computer vision, an AI technology that enables machines to interpret and make decisions based on visual data, will open new avenues in marketing, especially in areas like augmented reality and virtual reality.
The ability to analyze non-text digital data means that businesses can gain insights from a wider range of sources, from images and videos to audio clips. This will provide a more comprehensive view of customer preferences and behaviors.
As AI technologies continue to evolve, we can expect even more innovative tools and solutions that will push the boundaries of what's possible in marketing analytics.
Responsible AI in Marketing
As AI becomes more integrated into marketing strategies, there's a growing emphasis on responsible AI. This considers fairness, security, reliability, inclusivity, and transparency in AI development, ensuring that AI-driven marketing remains ethical and beneficial for all.
Fairness in AI ensures that algorithms don't perpetuate existing biases. This is crucial in marketing to ensure that campaigns are inclusive and resonate with a diverse audience.
Transparency in AI development means that businesses understand how AI tools make decisions. This is essential for trust, especially when using AI to make crucial business decisions.
Lastly, responsible AI emphasizes the importance of ethical considerations. As AI plays a more significant role in our lives, it's crucial to ensure that it's used in a way that benefits everyone, without causing harm or perpetuating inequalities.
Embracing AI for Deeper Insights
Embracing AI-driven analytics is no longer optional for businesses seeking to thrive in the digital age. By leveraging the power of AI, businesses can gain deeper marketing insights, drive growth, and achieve unparalleled success.
The integration of AI into marketing analytics signifies a paradigm shift in how businesses approach marketing. It's not just about collecting data but about interpreting it in meaningful ways to derive actionable insights.
As businesses continue to generate vast amounts of data, the importance of AI-driven analytics will only grow. It offers a solution to the challenges of data overload, providing clarity and direction in an increasingly complex digital landscape.
In conclusion, the future of marketing lies in the hands of AI-driven analytics. Businesses that recognize its potential and invest in it will be the ones that stand out in a competitive market, achieving growth and success in the years to come.
Summary:
The integration of AI in marketing analytics offers businesses a deeper understanding of their marketing efforts. By harnessing AI's power, businesses can move beyond basic metrics, ensuring more informed decisions, better outcomes, and a competitive edge in the market. As we look to the future, the role of AI in shaping marketing strategies will only become more pronounced, making it an indispensable tool for businesses worldwide.
Maine Dental Board License Lookup
Arizona Real Estate License Find
Virgin Islands Car Bill of Sale
Georgetown Delaware Health and Social Services
Polaroid Corporation Headquarters Address
Crystal Run Make an Appointment
CT Department of Insurance License Lookup
New Hampshire Dept of Public Health
Alaska DMV Appointment Soldotna
General Contractors License Georgia
Sheriff Inmate Search Washoe County
DMV NY License Renewal Appointment
Puerto Rico Board of Dental Examiners Dental License Look Up
Hawaii Board of Pharmacy (HIBOP)
Delaware Vehicle Registration Fee
Columbus International Airport Parking Rate
Easter 1984 – When Was Easter 1984?
Cincinnati Airport Longterm Parking
Bar Association Search Arkansas
Massachusetts Non Resident Insurance License Lookup
Social Security Office Brooklyn NY
Social Security Office Kennesaw GA
Towbusters Roadside Assistance
New York Pharmacy Board Lookup
SD Department of Corrections Lookup
Illinois Central School Bus Corporate Phone Number
First National Bank Alaska Corporate Phone Number
Dental Assistant License Lookup Alabama
Bossier City Louisiana Sales Tax
Farm Bureau Insurance West Virginia
When is Chinese New Year 2025?
Cancel Kaiser Appointment Online
CA Board of Dentistry License Search
Schedule an Appointment Bank of America
Social Security Office Miami FL 33135
Georgia State Bar Attorney Search
Clayton County Jail Inmate Lookup
Elizabethtown KY DMV Appointment
Indiana BMV Insurance Verification
DCRA Registrar of Contractors Search
Pharmacy Board in Massachusetts
Georgia Real Estate Commission & Appraisers Board License Find
HR PHONE NUMBERS FOR LEADING COMPANIES
New Jersey Home Inspection License
IRS Sacramento CA Phone Number
Maryland Pharmacy Technician License Lookup
South Carolina Corrections Department Phone Number
AR Real Estate Broker License Verify
North Dakota Insurance Department
Idaho Board of Pharmacy (IDBOP)