Morning Dough Affiliate Program
Morning Dough is a free daily newsletter that providing digital marketers, entrepreneurs, professional, and business owners worldwide with the best and most up-to-date online marketing news and information. We do this by collecting and curating online marketing news, knowledge, trends, articles, and tools.
Joining our affiliate program is completely free and easy. Once you're approved, you'll have access to an amazing assortment of marketing tools and resources including dynamic banners, trackable links, and unique promo codes to add to your website. Every time someone you referred registered to Morning Dough newsletter or join any of our advanced & unique products you'll earn a commission.
Be part of the excitement and join the Morning Dough Affiliate Program now!
Why Join?
* It's FREE!
* International program
* $0.30 – $2.00 per subscriber.
* 10% – 20% for advanced & unique products.
* 1 Year cookies.
Also…
* No minimum earnings payment release threshold.
* Affiliate bonuses and promotions from time to time.
* Ongoing access to new banners and creative.
* On demand unique blog posts and article for your website.
* Dedicated affiliate manager to help maximize your program.
* Monthly payments to you via PayPal.
* It is quick and easy to set up links.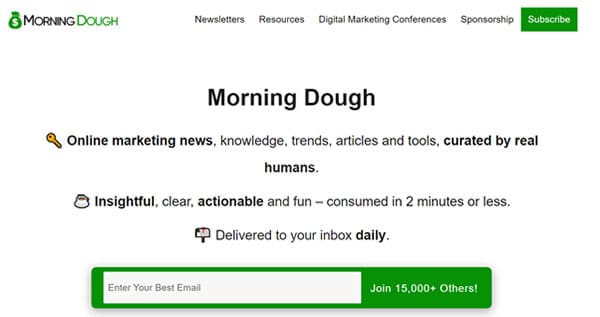 Moreover, we have dedicated affiliate program managers that can answer any questions you have and even produce custom creatives for your site! Just ask us.
Turn Those Clicks into Cash Today!
Ready to Join? Click Here (By signing in you agree to the affiliate agreement)
Please contact us and we'll be glad to assist you.