DIGITAL MARKETING
Digital Marketing Salary – The Complete 2020-2021 Data
As the demand for Digital Marketing employees rising fast both from small businesses to large corporations, digital marketing experts' salaries are rising.
According to LinkedIn in the year of 2020, 1.6M+ digital marketing jobs were posted (an increase of almost 70% from 2019) and top in-demand skills were social media, content strategy, SEO, marketing channels, Google Analytics and Google Ads.
Entering 2021, we expect that the demand for digital marketing experts continue to rise and with that also the rise of salaries.
We have created this complete Digital Marketing Salary Index to assist the employers and employees with a reference for what digital marketing jobs are paying now.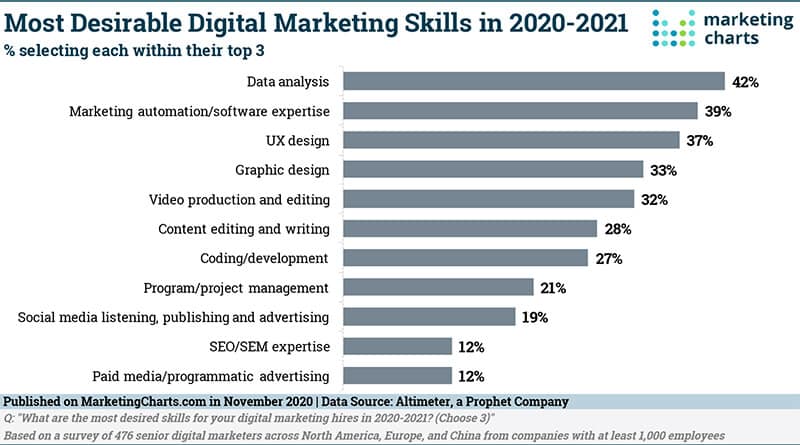 The index refers to average salaries (not including commissions and bonuses in relevant positions) but differ from one position to another, depending on the level of the position (specialist, manager, director, VP etc.), experience, skills, reputation, industry, location and the company. For example, a digital marketing manager average salary is $85,000 per year, but in our study, we've found a position at Amazon.com that pays $100,000 annually and a position at the Walmart that pays only $78,000 annually.
How this Digital Marketing Salary Index Created?
In order to create this extensive index, we have scanned and analyzed over 40,000 digital marketing jobs in the United States, published by companies websites as well as on professional jobs websites such as LinkedIn, Zip Recruiter, Crandall Associates, Salary.com, Glassdoor, Career Builder, Pay Scale, the Balance Careers, Indeed, Monster.com and more.
Digital Marketing Jobs Salary
Digital Marketing
VP Digital Marketing – $150,000
VP Digital Sales – $145,000
Senior Director Marketing – $135,000
Digital Marketing Director – $115,000
Digital Platforms Director – $115,000
Technical Marketing Manager – $110,000
Digital Marketing Manager – $85,000
Assistant Digital Marketing Manager – $60,000
Digital Marketing Strategist – $80,000
Digital Marketing Specialist – $65,000
Digital Marketing Coordinator – $50,000
Digital Marketing Beginner – $35,000
Digital Marketing Intern – $30,000
Online Community Manager – $50,000
Ecommerce
SVP Ecommerce – $150,000
VP Ecommerce – $140,000
Ecommerce Director – $125,000
Ecommerce Manager – $80,000
Ecommerce Analyst – $67,000
E-commerce Specialist – $57,000
Search Engine Optimization (SEO)
SEO Director – $110,000
Search Director – $110,000
Enterprise Search Manager – $90,000
Head of SEO – $135,000
SEO Manager – $82,000
SEO Analyst – $68,000
SEO Strategist – $65,000
SEO Specialist – $60,000
Inbound SEO Manager – $60,000
Content Marketing
VP Content – $150,000
Director Content Marketing – $115,000
Enterprise Content Manager – $115,000
Content Designer – $110,000
Content Strategy Lead – $110,000
Content Designer – $100,000
Content Strategist – $90,000
Content Manager – $77,000
Inbound Content Manager – $65,000
Copywriting
Freelance Senior Copywriter – $100,000
Advertising Copywriter – $95,000
Financial Copywriter – $85,000
Senior Copywriter – $83,000
Freelance Copywriter – $80,000
Copywriter – $65,000
Social Media Marketing
VP Social Media – $100,000
Social Media Director – $95,000
Social Media Senior Strategy Manager – $90,000
Social Media Analytics – $80,000
Social Media Project Manager – $79,000
Social Media Manager – $75,000
Social Media Strategist – $67,000
Inbound Social Media Manager – $60,000
Social Media Specialist – $55,000
Social Media Coordinator – $43,000
Paid Search (PPC)
VP Paid Search – $100,000
Paid Search Director – $85,000
Paid Search Manager – $75,000
Paid Search Analyst – $63,000
PPC Manager – $68,000
PPC Professional – $62,000
Google Ads Expert – $60,000
PPC Specialist – $59,000
Paid Search Specialist – $57,000
Paid Search Coordinator – $53,000
PPC Analyst – $50,000
Online Advertising
Programmatic Advertising Manager – $108,000
Advertising Operations Manager – $92,000
Online Advertising Manager – $63,000
Microsoft Advertising – $74,000
Facebook ADS Specialist – $53,000
Email Marketing
VP Email Marketing – $110,000
Email Marketing Director – $90,000
Email Marketing Manager – $78,000
Email Marketing Tech – $72,000
Email Marketing Specialist – $67,000
Digital Media
VP Digital Media – $140,000Media Buying Director – $92,000Digital Media Manager – $65,000Media Buying Team Leader – $64,000Digital Media Expert – $62,000Digital Media Strategist – $62,000Media Buying Expert – $60,000Online Media Manager – $58,000Media Buyer Salary – $57,000Digital Media Specialist – $50,000Digital Media Coordinator – $45,000

Affiliate Marketing
VP Affiliate Marketing – $130,000
Affiliate Marketing Director – $100,000
Senior Affiliate Manager – $80,000
Partner Marketing Manager – $72,000
Affiliate Marketing Manager – $68,000
Web Analytics
Web Analytics Director – $133,000
Web Analytics Manager – $84,000
Web Analytics Specialist – $79,000
Google Analytics Specialist – $74,000
Web Design
Web APP Designer – $94,000
Web Design – $91,000
Senior Web Designer – $88,000
Adobe Designer – $85,000
Visual Graphic Designer – $82,000
Graphic Designer – $81,000
Mobile Marketing
Mobile Marketing Manager – $78,000
AdSense
Google AdSense Expert – $83,000