SEO 101: Driving More Visitors to Your Site
Search Engine Optimization (SEO) is not just a buzzword; it's a powerful tool that can significantly increase your website's visibility and traffic. With 68% of online experiences starting with a search engine, it's evident that SEO plays a pivotal role in a brand's online success. Moreover, 63% of all shopping begins online, emphasizing the importance of a strong online presence.
Search engine optimization (SEO) is a crucial strategy for getting your website found online and driving relevant traffic to your site. Implementing effective SEO can take time, but is worth the investment for long-term rewards. Here are tips for using SEO to increase your website traffic.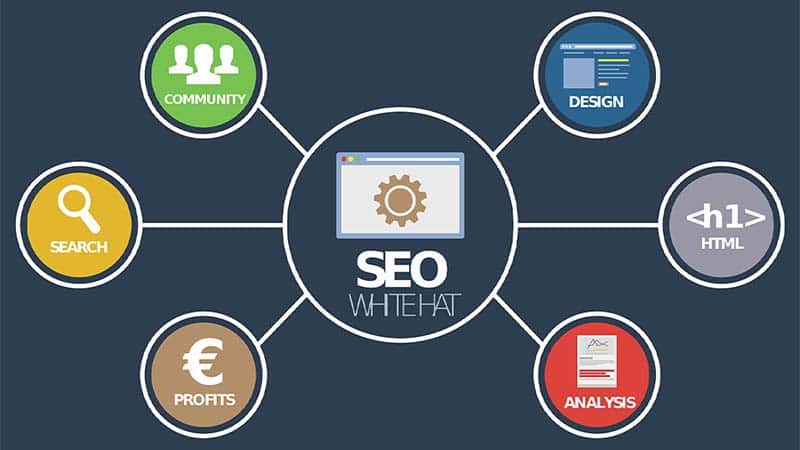 The Basics of SEO
Search engine optimization (SEO) refers to strategies and techniques that aim to boost a website's rankings in search engines like Google. The goal is to appear higher in the search engine results pages (SERPs) for relevant queries so you can drive more organic traffic to your site.
SEO is both an art and a science. It requires creativity to produce compelling and useful content, combined with analytical skills to track and improve performance. There are many factors that influence search rankings, but the basics involve optimizing a site for both search engines and users.
SEO is an ongoing process that requires constant tracking, testing and refinement. You need to monitor your site's performance in search, traffic trends, backlink profile and more. Improving SEO is not a one-time effort, but with smart strategies you can steadily gain visibility and organic traffic over time.
The payoff for all this effort is huge. Higher SEO rankings translate into more qualified visitors, leads and customers. By mastering search engine optimization best practices, you can drive sustainable growth for your business or website. The basics outlined here are a great starting point for SEO success.
Key Strategies for Driving Traffic Using SEO
Embracing the Power of Content Clusters
Content clusters have emerged as a revolutionary approach to content creation and SEO. Unlike isolated, one-off articles, content clusters utilize a hub-and-spoke model for superior optimization.
At the center lies a pillar page – an in-depth, comprehensive guide to a topic. This acts as the hub. Branching from it are related sub-topics, each presented in separate articles linked back to the main pillar page.
Structuring content in clustered formats like this boosts SEO in several ways. Firstly, it allows for thorough, authoritative coverage of a topic from multiple angles. Search engines favor websites with expertise on a subject.
Second, the interconnected structure enhances the user experience by facilitating seamless navigation between related content. Readers can easily browse from general overviews to specific details.
Thirdly, the internal links between the hub and sub-pages signal relevance and authority to search engines. This interlinked, clustered architecture helps pages rank better collectively.
As such, embracing content clusters is strategically wise. Brands should identify high-value pillar topics and then create satellite content expanding on insights from the central guide. Done right, this clustered approach can significantly amplify SEO success.
Mastering the Art of Keyword Strategy
At the core of SEO is identifying and targeting strategic keywords. Conducting comprehensive keyword research provides critical insights for optimization.
Ideally, focus on high-volume keywords directly relevant to your business offerings. Prioritizing terms with sufficient search volume ensures worthwhile optimization potential.
Furthermore, analyze your competitors' rankings with keyword gap analysis tools. Uncovering valuable terms they rank for that you don't can reveal lucrative optimization opportunities.
Optimizing for these untapped long-tail variations of popular keywords allows you to expand your visibility in search results without directly competing against established domains.
Updating keywords over time is also essential, as search trends evolve. Regularly refresh your research to incorporate rising queries and new optimizations. A dynamic, thorough keyword strategy gives your SEO a consistent edge.
The Importance of Refreshing Existing Content
Creating new content is clearly important for SEO. However, revisiting and updating existing content can also significantly boost performance.
With time, data and statistics in old content become outdated. Industry standards and trends also change, rendering old advice less relevant. Even the overall style may feel stale after years.
Revising and refreshing outdated content makes it timely. Integrating new keywords and data points also optimizes it for more relevant searches. Improving page speed, updating images and enhancing formatting also help.
Repurposing old blog posts into new formats like videos or podcasts can also re-engage visitors. Adding more detailed sections expands the content value.
In summary, reusing and improving existing assets on your site gives them renewed potential. Don't just focus outward on new content – leverage what already exists.
Capturing Attention with Featured Snippets
Featured snippets, often termed "position zero," are the coveted spots that appear at the very top of Google's search results. These snippets provide users with quick, concise answers to their queries, making them highly desirable for businesses. Achieving a featured snippet can boost your website's traffic by a staggering 30%. To optimize for these snippets, it's essential to structure content in a question-and-answer format. Additionally, keeping the content updated and ensuring it directly addresses commonly asked questions can increase your chances of securing this prime position.
Delving into On-Page SEO
On-page SEO is the practice of optimizing individual web pages to rank higher in search engines. This involves a meticulous examination of various elements on the page. From crafting compelling title tags and meta descriptions to optimizing header tags, URL structures, and images, every detail matters. Ensuring that each page is optimized for relevant keywords and offers a seamless user experience is crucial for on-page SEO success.
On-page SEO refers to elements directly within each page that affect rankings, such as:
Title tags & meta descriptions: Concise, keyword-rich snippets that appear in search listings.
Headers: Proper heading hierarchy outlines the page structure.
URL structure: Keywords in the URL indicate page relevance.
Image optimization: Descriptive image names, alt text and captions.
Content: High-quality content with natural keyword integration.
Page speed: Faster loading times improve user experience.
Each on-page factor contributes to how search engines assess the page. Optimizing them appropriately, while crafting compelling content, facilitates higher rankings for each page.
Optimize Technical SEO Elements
In addition to content and keywords, it's important to optimize the technical elements of your website for search engines. A fast, secure, mobile-friendly site helps boost rankings and user experience.
Specifically, implement a secure HTTPS connection to encrypt data and traffic. Develop a responsive design so your site resizes seamlessly on all devices. Optimize pages for fast load speeds, as site speed impacts rankings. Ensure your site architecture is clean and error-free to facilitate crawling.
Add structured data markup to enable rich search results. Maintain a sitemap XML file and robots.txt file to aid indexing. Check for and fix any broken links or crawl errors. Enable caching and compression to improve performance.
Continuously monitoring your site's technical SEO helps detect issues early. Run speed tests and audits regularly. Keep up with latest best practices as search algorithms evolve. A website built on a solid technical foundation gives your SEO efforts a boost.
Build High-Quality Backlinks
In addition to on-page optimization, building high-quality backlinks from external sites helps boost your search rankings. Securing backlinks signals to search engines that your content is valuable.
There are several ethical ways to build links. Guest posting on industry blogs and partnering with complementary brands both facilitate backlink building. Promoting your content on social media can also drive links. Having local citations on directories related to your business helps as well.
Focus on building links organically from reputable, high-authority sites related to your niche. Avoid low-quality links from spammy, irrelevant, or questionable sources, as they can negatively impact rankings. A thoughtful link-building strategy over time improves search performance.
Track your backlink profile to identify new linking domains and monitor for sketchy links. Disavow any toxic backlinks that could hurt your site. Building a diverse, relevant backlink portfolio takes effort but delivers huge SEO dividends.
Analyze and Refine over Time
The work doesn't stop once you implement SEO best practices. Ongoing analysis and refinement is crucial for continuous improvement.
Regularly track your site's search visibility, rankings and organic traffic sources using Google Analytics. Conduct monthly SEO audits to catch any new issues. Monitor your keyword rankings to see terms gaining or losing visibility.
Use these insights to refine your keyword targeting, content, technical factors and link building strategy. SEO is always evolving, so update outdated practices as search algorithms change.
Set goals and KPIs to quantify your progress. Look at site speed, traffic growth, lead conversion rates, ROI and other metrics. Continually optimizing your SEO based on the latest data leads to better results over time.
SEO is not a one-time effort, but requires commitment to ongoing analysis and improvement. Be proactive about monitoring your performance and pivoting as needed to maintain your search presence. With regular refinement, your SEO and traffic will steadily grow.
The Trustworthiness of SEO
Search engine optimization (SEO) is widely considered one of the most authoritative and trustworthy digital marketing strategies. Studies indicate that 70% of marketers believe SEO delivers better return on investment than paid search advertising. There are several reasons for SEO's perceived trustworthiness.
First, search engines like Google want to provide the most relevant, high-quality results for queries. So earning high organic rankings requires valuable, in-depth content and a positive user experience. Optimizing for real people's needs builds trust.
Also, organic listings are earned through merit and relevance, not payments. Brands must prove their expertise to rank well. Paid ads lack this authority, appearing above organic results despite relevance. Consumers may perceive organic results as more impartial.
Additionally, SEO traffic is driven by intent – people searching for topics related to your business. This incoming traffic converts better than interruptive promotional ads. Searchers demonstrate intent and interest merely by querying keywords you optimized for.
Finally, research indicates that 66% of consumers conduct online research before purchases. So brands must optimize for these discovery-phase searches to influence buying decisions. Appearing prominently in organic search is critical for visibility and authority during research.
In Conclusion
SEO is an indispensable tool for any business looking to establish a strong online presence. By understanding its basics and implementing the strategies mentioned above, you can significantly improve your website's traffic and, consequently, your bottom line.
Texas Board of Dental Examiners Dental Licence Lookup
MA BOP Verify Pharmacy License
New Jersey Department of Transportation (NJDOT)
Cancel an Appointment for Drivers Test at Arkansas DMV
Kelly Services Employment Verification
Clayton County Department of Corrections Inmate Search
Book an Appointment for Registration at Oregon DMV
State Bar Attorney Search Louisiana
New Hampshire Board of Pharmacy (NHBOP)
DPOR Virginia State Contractors License Search
Pharmacist License Find California
Drivers License Verification Colorado
Oklahoma State Department of Education License Verify
Costco Pharmacy Flu Shot Appointment
Secretary of State Corporations Database Alaska Search
Kent County Jail Inmate Search
Kent County Department of Corrections Inmate Search
Sedgwick County Tag Office Appointment
Louisiana Board of Dentistry License Lookup
Supercuts Make Appointment Online
DC Bar Association Lawyer Lookup
State Bar of Georgia Member Directory
Dental Board of Texas License Verify
Insurance Agent License Lookup Indiana
TDLR State Contractors Board License Lookup
New Jersey DMV Registration Lookup
Illinois IDFPR Roofing License Lookup
DMV Lexington VA Appointment [Appointment System Details]
Arizona State Board of Dental Examiners Certified Dentist Verification
Inmate Release Search Miami Dade
Kaiser Northern California Appointment Phone Number
DMV Minnesota Appointment Road Test
Schaumburg DMV Schedule Appointment
Costco Tires Make an Appointment
Lab Appointment Cleveland Clinic
Schedule Appointment at T-Mobile Store
Schedule an Appointment for Drivers License at DPS Texas
Michigan Department of Licensing and Regulatory Affairs License Lookup
Idaho SEC of State Business Search
Make an Appointment with Chase Bank
VERIFY ANY LICENSE IN ALL STATES DIRECTORY
Make a Capital One Business Account Appointment
Secretary of State Corporation Mississippi Lookup
Make an Appointment for Drivers License Renewal at Wisconsin DMV
Indiana Pharmacy Technician Certification Verification
Georgia Contractors License Board Lookup
Illinois Driving Test Appointment
Spectrum Internet Cancel Appointment
New York Pharmacy Board Verify
Make a Sutter Health Lab Appointment
MD MHIC Contractor License Search
DMV South Dekalb Mall Appointment
Ohio Board of Pharmacy License Lookup
Florida Roofing License Lookup
Oakland TN DMV Driving Test Appointment
Wyoming Vehicle Information Check
MT Department of Insurance License Lookup
Appointment for Drivers Test at New York City DMV
Walmart Eye Exam Schedule Appointment
Make an Appointment for Michigan Lottery
Dentist License Verification Texas
Montana Board of Pharmacy (MTBOP)
Change an Appointment for Drivers License Renewal at Montana DMV
Make an Appointment for Learner's Permit Test at DC DMV
Oklahoma Roofing License Lookup