How to Sell Art Online and Make Money?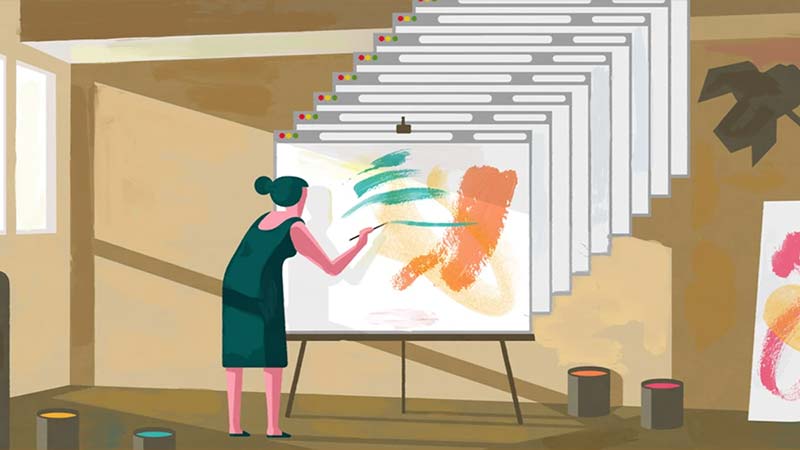 Discover how to sell art online and make money using this powerful "How to Sell Art Online" ultimate guide.
When I graduated from art school 15 years ago, I had mastered color theory and watercolour techniques, but didn't know the first thing about business. As a year-end project, we learned to create a very basic portfolio website. No ecommerce—simply samples of our work and a contact page.
My very first week as a proper adult and working artist, I learned a hard lesson: to succeed in art, you must also succeed in business. And my sad little Flash website wasn't going to cut it.
Ecommerce wasn't as accessible 15 years ago, and social media was essentially non-existent. The question, "where can I sell my products online for free?" never even entered my mind. For unknown artists like me, the money was in corporate and advertising commissions.
The ability to easily sell your own art online completely changed the game.
In 2017, the starving artist is a dying breed. Ecommerce and social selling have become increasingly effective means for independent artists to self-sufficiently fund their craft, and most importantly, to gain the independence to sell the work they want to create directly to their niche audiences.
For galleries, the shift in the last two decades has allowed curators to represent more artists and expand into affordable prints to reach larger audiences worldwide.
How to Sell Art Online?
Since my own career as an illustrator lasted mere months, I consulted two Shopify merchants—an artist and a gallerist—actively making their living by selling art.
Maria Qamar, the artist also known as Hatecopy, quit her advertising career to focus on painting when her pop art Aunty paintings began to catch fire on Instagram.
Ken Harman is the gallerist responsible for the Spoke Art empire—three galleries on two coasts, three ecommerce stores, a print shop and production facility.
Through Maria and Ken's personal experiences, we'll walk through the ins and outs of the business of being an artist, sharing their tips to help you sell art online.
Is Selling Art Online a Side Hustle or Full Time?
Many new artists get their break on social, growing a devout following by sharing their work consistently and engaging in online artist communities.
Maria pursued her dream of becoming a working artist after being laid off from her advertising job, but the success didn't happen overnight, and she supplemented her income in the beginning, while growing her fan base on Instagram.
Her full-time job, however, taught her business skills that were critical in getting her store off the ground and marketing herself as an artist.
💡 TIP: Tap into employer resources and learning opportunities while you're still working, growing your art business on the side. What knowledge or experience can you glean from your day job?
There's something to be said also for taking the plunge. When Ken, unable to secure a temporary pop-up space, signed a two-year lease on a space, the risky moved helped him quit his job waiting tables within a few months.
Should I Sell My Own Work Art or Other Artists' Art?
If you're not personally an artist, you can still get into the game of selling art as a curator. Artists disinterested in the business aspect of their craft rely on agents, galleries, and other merchants to do it for them.
There are several ways to work with artists, from selling originals or prints, to licensing works to be printed on merchandise. Generally, the artist would make a set commission on sold works.
"Most galleries offer an industry standard fifty percent consignment split for original art. The artist provides the artwork, we do our best to sell it, and then we split the proceeds fifty percent. For prints, we actually run our own print shop in Berkeley, California. We do all of our own printing in house. Typically we offer a fifty percent split after the cost of production." – Ken
While Maria runs her own shop, where she sells prints and merchandise, eliminating the middle man and keeping her costs low, she leans on relationships with experienced galleries to exhibit and sell her original art.
Galleries can expose your work to new audiences and have access to resources and professionals to help promote, handle, and ship artwork.
Should You Sell Original or Reproduction Art?
Some mediums like sculpture are more difficult to reproduce or use for merchandise applications (but consider 3D printing or collaborations with toy manufacturers). Most 2D mediums, however, have multiple options for generating unlimited sales on a single work.
Consider the following:
1) Original fine art.
2) Limited or open edition prints–giclee (framed or unframed) or canvas.
3) Digital downloads–desktop wallpaper, inspirational quote prints, etc.
4) Custom/commissions–original works in traditional or digital mediums.
5) Merchandise–hats, mugs, t-shirts, enamel pins, etc.
6) Repeat prints on fabric or wallpaper.
7) Licensing work to other ecommerce merchants.
8) Collaborations with merchants and creators.
9) Selling photos online.
Read more here.
[optin-monster slug="em8z7q6hga9elmy1dbgb"]