ECOMMERCE
Amazon Vs. Walmart Stock: Which is the Better Buy?
Discover which is the better stock to invest, Amazon or Walmart, which one will perform better and win the ecommerce industry
Amazon and Walmart are titans of industry and fierce retail competitors.
I will compare them on metrics that include market performance, growth, valuation, return of capital, and profitability to determine the better buy.
Let the games begin!
Amazon (AMZN) vs. Walmart (WMT) is indeed the battle of the titans. Two companies that dominate the retail landscape. They are fierce competitors. Together, most people interact with one or both companies in some way almost every day, sometimes without even knowing it. The companies also stir powerful emotions. Many people love them, hate them, or love to hate them. And negative emotions are not unfounded as each sometimes operates in a heavy-handed fashion. Just ask the FTC. Positive feelings are not unfounded either. Just ask their investors and customers.
They are also very different. Amazon, it seems, is into everything. From satellite internet to streaming music and television to Amazon Web Services (AWS). Walmart is much more focused on its core enterprise. Walmart pays a dividend, which Amazon does not. Walmart buys back a significant amount of stock; Amazon does not.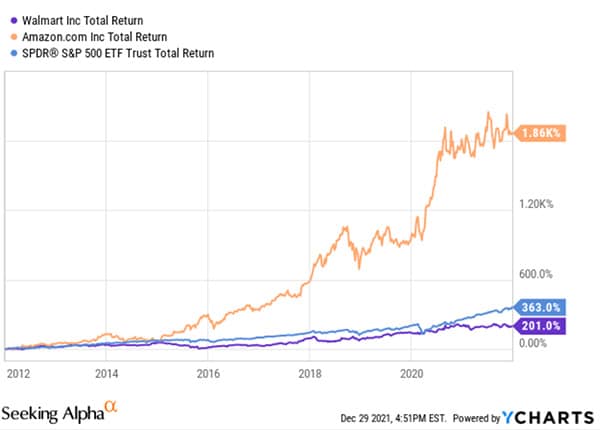 Can Walmart Catch Amazon in E-commerce?
From partnering with Instacart to launching Walmart+ as a competitor to Prime, here are all the ways Walmart is looking to catch up with Amazon's dominance in e-commerce as the pandemic pushes more shoppers online.
Walmart is partnering with Instacart to offer same-day delivery starting in a few U.S. markets, making it the latest major grocery chain to team up with Instacart in its fight against Amazon and Whole Foods.
Read more here.
Additional Links:
State Farm Roadside Assistance
KIA Roadside Assistance Number
Progressive Roadside Assistance Number
Triple AAA Roadside Assistance Phone Number
California Real Estate Commission
Apply for Medicaid in North Carolina
Apply for Medicaid in New Jersey
Blue Cross Blue Shield Louisiana
Blue Cross Blue Shield North Carolina
Social Security Office Chattanooga TN
Social Security Office Vancouver WA
Maryland Insurance Administration
Pennsylvania Insurance Department
New York Unemployment Phone Number
New Jersey Unemployment Phone Number
Arizona Department of Transportation
Virginia Department of Corrections
New Jersey Department of Corrections
Massachusetts Corporation Search
Michigan Business Entity Search
CA Board of Accountancy License Lookup
Nebraska Pharmacy License Lookup
Federal School Code for University of Phoenix
Walmart Supercenter Baxley Georgia
Missouri Physician License Lookup
BMO Harris Bank Chicago IL Address
25 per hour is how much per year?
Handicap Parking Permit Florida