Simple Steps To Make Your Business More Marketable
While it's relatively easy to find numerous guides on marketing and reaching the right audience to grow your business, even the best advertising campaign will not help if your product or services aren't right.
Whatever industry you're in, there's always going to be competition; as such, it's crucial to find a way to stand out. You might need to bring a fresh pair of eyes to look at your approach from a more critical angle or strengthen your online presence. Moreover, think about how your business operates and see if there's something you can communicate to your potential clients.
For example, you can build your reputation as an eco-friendly company by saving paper with the help of apps such as FaxBurner for digital faxing, or Authentic for authentication and signing documents online; encouraging your employees to work from home or carpooling; using only reusable materials for your products and packages, and so on.
More complex steps, like developing an experienced management team, revamping your business inside and out, updating your business plan may also be necessary. Utilizing Google AdWords, offering coupons or complementary products and services is also a strategy worth considering.
Let's take a look at a few ways to make your business stand out from the competition.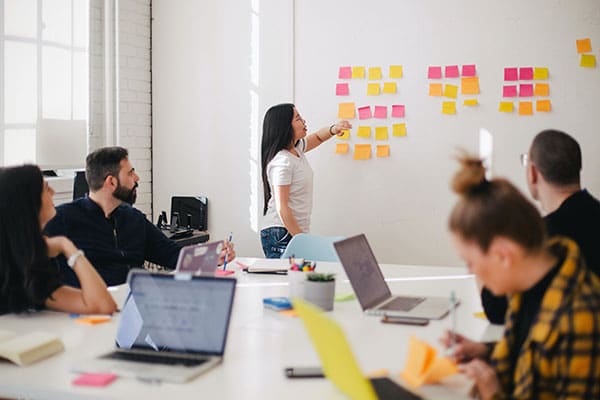 Seek Out Help and Outsource if Necessary
If you have been trying to stand out from the competition on your own but have not had much success with it, consider seeking professional help from those who have a better understanding of marketing or another field you struggle with. Being able to attract more customers may mean updating your business plan if it has been a while since you have done so.
Don't be afraid to make well-thought changes. A new website design might ensure that potential clients can easily find your company online and find out about all the products or services you offer. On the other hand, if you operate internationally, you might pay attention to how you communicate with your target audience. Consider working with remote virtual interpreting and translating professionals to eliminate the risks of miscommunication or even offending your potential customers or business partners. Or, if your business is struggling financially, it might be time to seek out professional help with financial management as well.
Start an Affiliate Program
An affiliate program is usually based on the idea that promoting the products or services of another company will result in benefits for both companies involved in the program – one part increases their sales while the affiliate profits by receiving a commission on those made through their efforts.
What are the benefits of an affiliate program for your business?
Offering discounts or free trial periods to new customers – this might encourage them to buy something on your website, but it's also a great way to convert first-time visitors into paying customers.
Creating a stronger connection with your current customers – they are more likely to buy from you again if you have offered them additional incentives for doing so.
Building relationships with industry leaders – by becoming an affiliate of a company that offers effective products or services, you are more likely to attract customers who are already familiar with them.
Finding new solutions for marketing – being an affiliate of a large and well-known company might be an excellent chance to learn about new strategies and tools that can be used for successfully promoting your business.
Find a Niche Market
You can also try to find a niche market where your business can thrive rather than compete with other companies in the same industry. Narrowing down your target audience might help you learn more about your potential customers and offer them something better tailored to their needs.
It might take some time to find your niche, but it can be well worth the effort. For example, if you're a restaurant owner, you might want to start focusing on offering gluten-free food options to your customers. Since there is already a large population of people who prefer gluten-free foods, they are most likely to become aware of your restaurant if it offers these meals. The more specific you get with your audience, the more likely you are to attract customers who appreciate your marketing efforts.
Review and Update Your Business Plan
A business plan is an essential part of running a successful business. Whether you have just started or have been in business for a while and want to expand into new markets or increase your client base, adding a unique aspect to your business plan is a good idea. Ensure that it's reflected in your marketing materials and clearly stated on your website and all of your social media accounts. Let potential clients know what changes you've made and why these changes will benefit them when they make a purchase decision.
Stand Out From the Crowd
You don't want to sound like all the other businesses in your industry. Almost every company has its unique selling point, which is why it's essential to identify what yours is and make sure that your customers and potential customers know it. This could be an exclusive range of products only available at your business, a unique service not offered anywhere else in town, or something else entirely.
Being unique or different isn't as difficult as it sounds, and it's more about the perception of your product or service than the actual product or service itself. Consider what others in your industry are doing and how you can approach the same thing differently. Be sure to take into account what people want and how they might want to use whatever you have to offer. Also, whatever industry you're in, there's always room for new products and services. Get creative and start thinking about what your potential clients might need and want.
Provide Exceptional Customer Experience
A great customer experience might mean the difference between a one-time buyer and a loyal customer. It's a good idea to take a closer look at your customer service standards and ensure that they are consistent across all of your employees. If you have been looking for ways to improve it, consider adding an online contact form or live chat so that you can better respond to queries from clients.
Add Complimentary Products or Services
When people are willing to pay good money for something, it makes sense that offering them something at no cost would make them like you more than your competitors who don't provide anything for free. It also increases brand awareness by providing prospective clients with the opportunity to try out your goods or services before purchasing.
If you are already in the market with a product or service, adding other complimentary items or services can help you create a more extensive client base. Add new services to your existing product line to improve your offerings while better serving your existing client base. Or, if you are currently in one industry, expand into another related industry.
For example, suppose you are in the medical training industry. In that case, you can offer classes on operating specific equipment or make yourself available for consultations on what equipment to buy and where. This will allow you to maintain a close relationship with existing clients while helping you attract new ones by offering them something they might not have been aware of when they first hired you.
Conclusion
If your business is struggling to get the attention you need, you might not be approaching things from the right angle. It's not enough to offer excellent products or services if you want to make it big. Your brand identity must be on point, your website must be up to date, and your social media accounts must be active. You also have to make sure you are visible in the market wherever possible. There are many ways to do this, but the critical factor is consistency. If you want your business to be successful in the long run, you have to work at it every day.