The AI Revolution in Social Media Marketing
The digital landscape is undergoing a massive transformation, and at the heart of this change is Artificial Intelligence (AI). One of the most significant areas impacted by AI is social media marketing. Let's dive deep into understanding how AI is revolutionizing the way brands interact, engage, and market on social media platforms.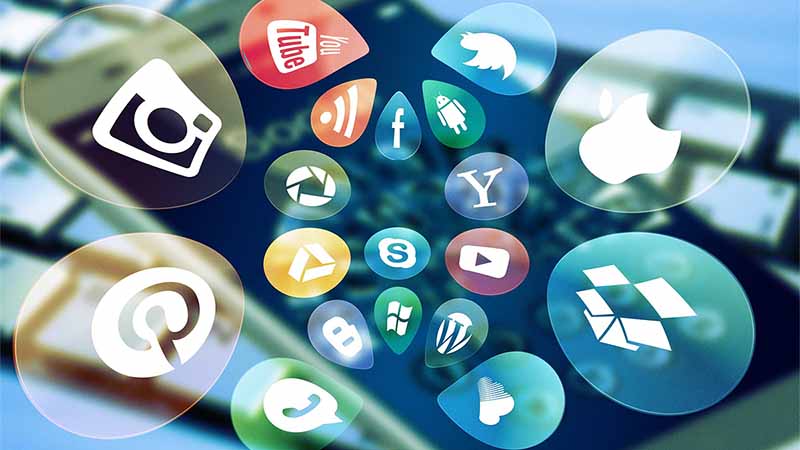 Enhanced Content Creation and Curation
AI-powered tools are now capable of creating and curating content for social media. These tools analyze vast amounts of data to understand audience preferences and generate content that resonates with them. For instance, tools like Lately use AI to learn from past social media posts and suggest content that is likely to perform well.
Additionally, visual content creation tools, such as DALL-E, are revolutionizing the way brands create engaging visuals for their audience. These AI models can generate images based on textual descriptions, allowing marketers to bring their creative visions to life without relying on graphic designers.
The potential of AI in content creation extends beyond just text and images. With advancements in technology, AI can now generate videos, infographics, and even interactive content. This not only saves time but also ensures that the content is optimized for maximum engagement.
Personalization at Scale
One of the most significant advantages of AI in social media marketing is the ability to offer hyper-personalized experiences to users. By analyzing user behavior, interests, and preferences, AI algorithms can provide personalized content recommendations, ensuring that users see the most relevant and engaging content.
Personalization goes beyond just content recommendations. AI can also tailor advertisements based on user behavior. For instance, if a user has recently searched for fitness equipment, AI can display ads related to gym memberships or workout plans on their social media feed.
The power of AI-driven personalization is evident in the increased engagement rates and conversion rates that brands experience. By delivering content that resonates with the audience, brands can foster stronger relationships and drive loyalty.
Efficient Social Listening
Social listening tools powered by AI allow brands to gather crucial data from social media conversations. These tools track brand mentions, keywords, and sentiments, providing brands with insights that can inform everything from marketing strategies to product development.
With the vast amount of data available on social media, manual monitoring becomes an arduous task. AI simplifies this by automatically categorizing mentions, analyzing sentiments, and even predicting future trends based on current conversations.
Brands can leverage these insights to stay ahead of the competition. By understanding what consumers are talking about and how they feel about certain topics, brands can tailor their marketing strategies to align with consumer sentiments and needs.
Optimizing Paid Media Campaigns
AI plays a pivotal role in enhancing the efficiency of paid media campaigns on social media. By analyzing historical data, AI-powered tools can target specific audiences, optimize ad creatives, and ensure a higher return on investment for brands.
Traditional ad campaigns often involve a lot of trial and error. However, with AI, marketers can get insights into which ads are likely to perform best, which audience segments to target, and even the best times to display the ads.
Furthermore, AI can dynamically adjust ad campaigns in real-time based on performance metrics. If an ad isn't performing as expected, AI can tweak its parameters to improve its effectiveness, ensuring that brands get the best value for their investment.
Real-Time Engagement and Support
AI-powered chatbots have become a staple on many social media platforms, offering users real-time support and engagement. These chatbots can handle a range of tasks, from answering frequently asked questions to guiding users through a purchase process.
The advantage of AI chatbots is their ability to handle multiple queries simultaneously, ensuring that users don't have to wait for responses. This enhances the user experience and can lead to increased customer satisfaction and loyalty.
Beyond just answering queries, AI chatbots can also gather data from user interactions. This data can provide brands with insights into common customer issues, preferences, and feedback, allowing them to improve their products and services.
Predictive Behavior Analysis
By analyzing vast amounts of data, AI can predict future consumer behaviors on social media. This predictive power allows brands to be proactive in their marketing efforts, tailoring their strategies based on anticipated user actions.
Predictive behavior analysis can also help brands identify potential leads and customers. By understanding user behaviors and patterns, AI can pinpoint users who are more likely to convert, allowing brands to target them with personalized marketing campaigns.
Furthermore, by understanding user behavior, brands can also anticipate and mitigate potential issues. For instance, if a user shows signs of dissatisfaction, brands can proactively reach out to address their concerns, preventing potential churn.
Challenges and the Way Forward
While AI offers numerous benefits, it's essential to recognize its limitations. Issues like algorithmic bias, potential plagiarism, and the need for human touch in content creation are challenges that brands need to navigate.
Ethical considerations also come into play, especially when dealing with user data. Brands need to ensure that they use AI responsibly, respecting user privacy and adhering to regulations.
However, with the right balance between AI and human intervention, the future of social media marketing looks promising. As technology continues to evolve, brands that embrace AI and its potential will undoubtedly stay ahead in the competitive landscape.
Summary
AI's integration into social media marketing is not just a trend but a significant shift in how brands engage with their audience. From content creation to predictive analysis, AI is making it possible for brands to be more efficient, personalized, and proactive in their strategies. As technology continues to evolve, it's clear that AI will be at the forefront of shaping the future of social media marketing.
NM RLD License Search New Mexico
Hillsborough County Drivers License Renewal Appointment
Texas State Board of Pharmacy Verification
Maryland Insurance Producer License Lookup
STATES LICENSES VERIFICATION, LOOKUP OR SEARCH
Arizona Registrar of Contractors State License Search
NYS DMV Appointments West Seneca
NJ MVC Hazmat Test Appointment
North Carolina State Insurance Commissioner
Department of Treasury Michigan
Teacher Verification New Jersey
SBOT Attorney Search Minnesota
New York Board of Dentistry License Lookup
Maryland DMV Appointment Baltimore
Hillsborough County DMV Appointment Plant City
Book a RI DMV Appointment for New Registration
Virginia Teachers License Lookup
Honolulu Road Test Appointments
Tennessee Board of Dentistry License Verification
Georgia Contractor License Look Up
Lees Summit License Office Appointment
NJ MVC License Renewal Appointment
Montana Contractors License Search
NY Board of Dental Examiners License Lookup
Stevens Creek Nissan Service Appointment
Cancel an Appointment for Road Test at DMV Georgia
State of IA Department of Transportation
Georgia State Board of Contractors
County of Riverside Department of Corrections Inmate Search
Fantastic Sams Hair Appointment
CVS Pharmacy Shingles Vaccine Appointment
Insurance Producer License Lookup NC
Insurance Agent License Lookup Utah
South Carolina State Medical Board Lookup
Insurance Continuing Education License Lookup Nevada
KS State Department of Corrections
Missouri Nursing License Verification
Pfizer Human Resources Phone Number
Cancel a PSEG Worry Free Service Appointment
Utah Drivers License Schedule Appointment
Missouri Board of Pharmacy Verify
Comcast Xfinity Schedule Appointment
New York State Board of Pharmacy License Check