ONLINE ADVERTISING
How Much do LinkedIn Ads Cost?
LinkedIn Ads Cost
LinkedIn ads costs vary by the advertiser, LinkedIn does require companies to bid a minimum of $2 for cost-per-click (CPC) and cost-per-impression (CPM) campaigns. On average, however, businesses pay $5.26 per click and $6.59 per 1000 impressions, as well as $0.80 per send for Sponsored InMail campaigns.
Get a complete summary of LinkedIn advertising costs with this handy summary:
1) Bid Type: CPC – Average Cost: $5.26 Per Click
2) Bid Type: CPM – Average Cost: $6.59 CPM (Per 1000 Impressions)
3) Bid Type: CPS – Average Cost: $0.80 Per Send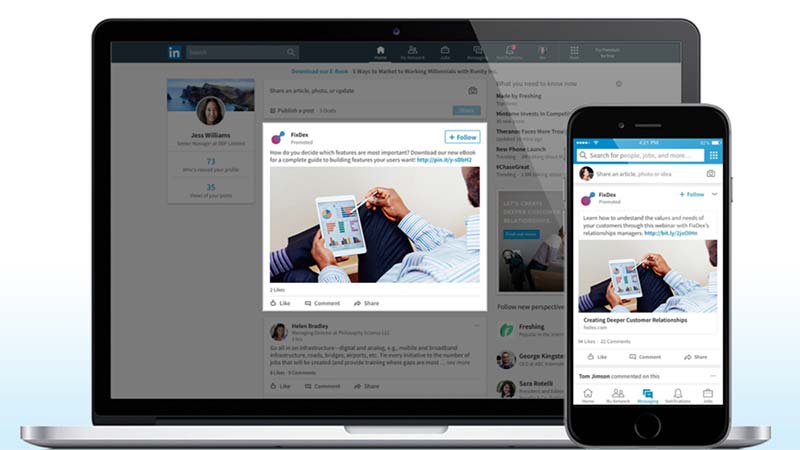 Source: LinkedIn Ads
What Determines Your LinkedIn Advertising Costs?
According to LinkedIn, three factors influence your LinkedIn advertising costs:
Target audience: When you advertise on LinkedIn, you compete with other advertisers to get your ad seen. If you target an audience in high demand, you can expect higher costs because of that audience's value and increased competition for that audience's attention.
Bid: Your bid will also impact your LinkedIn ad costs. That's because, while you won't ever exceed your bid, you will pay a portion of it. That's because LinkedIn's ad auction has the auction winner pay one cent more than the next highest bid.
Ad relevance score: When it comes to LinkedIn advertising costs, ad relevance scores play a tremendous role. A high ad relevance score can lower your expenses because LinkedIn wants to serve users relevant and engaging ads.
How Can You Control Your LinkedIn Ad Spend?
There are three ways you can control ad spend on LinkedIn:
Total budget: This is the best model if you want a campaign delivered fast for a specific budget. To run a campaign with total budget, you must spend a minimum of $10 per campaign.
Daily budget: If you want to set up a campaign that's always on and running, daily budget is the way to go. You need to spend a minimum of $10 per campaign for this option, too.
Setting bids: With this option, you set the amount you're willing to pay for clicks, impressions, and other options. You never pay more than the bid amount. You can bid a minimum of $2 for each click.
Read more here.