AI's Revolution in Email Marketing: Boosting Open Rates
In the digital age, email marketing remains a powerful tool for businesses to communicate with their audience. However, with the influx of emails flooding inboxes daily, standing out has become a challenge. Enter Artificial Intelligence (AI). AI is revolutionizing the way marketers approach email campaigns, particularly in optimizing for higher open rates. Let's delve into how AI plays a pivotal role in this transformation.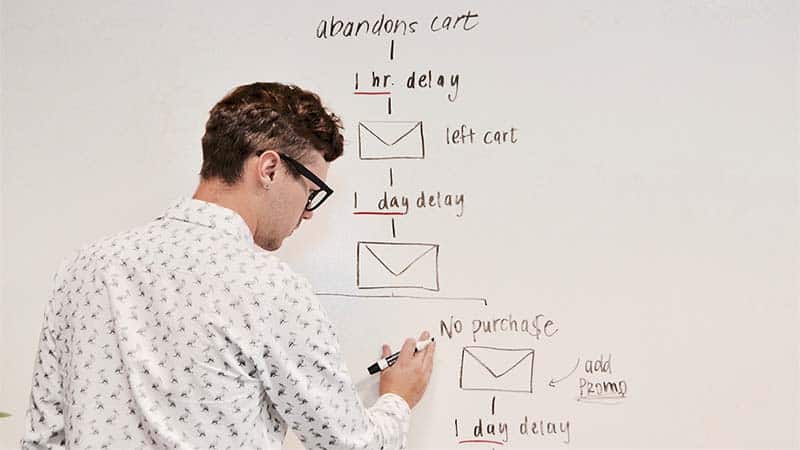 Understanding AI in Email Marketing
Artificial Intelligence is not just a buzzword in the tech world; it's a game-changer in email marketing. By analyzing vast amounts of data, AI can predict user behavior, tailor content, and automate many aspects of the email marketing process. This results in more personalized, relevant, and timely emails, leading to increased open rates and engagement.
With the rise of big data, AI has the capability to sift through vast amounts of information in real-time. This ability allows it to understand user preferences, behaviors, and patterns, making email marketing more effective. Moreover, as AI continues to evolve, its predictive capabilities will only become more refined, offering even more personalized email content.
Another significant advantage of AI in email marketing is its ability to learn continuously. As it processes more data, it becomes better at predicting what content will resonate with users. This continuous learning ensures that email campaigns remain relevant and effective over time.
Furthermore, AI can also help in reducing the manual tasks involved in email marketing. From segmenting lists to scheduling emails, AI can handle these tasks efficiently, allowing marketers to focus on crafting compelling content.
Personalization and Segmentation With AI
One of the standout features of AI in email marketing is its ability to personalize content. By analyzing user information, AI can segment users based on criteria such as age, gender, location, and behavior. This segmentation allows for the delivery of tailored content that resonates with the recipient, increasing the likelihood of engagement.
Personalization goes beyond just addressing the recipient by their first name. With AI, emails can contain product recommendations based on browsing history, content related to previously read articles, or even special offers tailored to past purchase behavior.
Segmentation, powered by AI, can be incredibly detailed. For instance, instead of just segmenting by age or location, AI can segment users based on their interaction with previous emails, time spent on the company website, or even their activity on social media.
Moreover, as AI continues to learn from user behavior, these segments can be continuously refined. This ensures that users always receive content that is most relevant to them, leading to higher engagement rates.
AI-Driven Email Content Optimization
Beyond segmentation, AI can optimize the actual content of the email. By analyzing engagement data from previous campaigns, AI can identify what type of content resonates with different segments of your audience. Whether it's the subject line, the images used, or the call-to-action, AI ensures that every element of your email is optimized for maximum impact.
For instance, AI can test multiple variations of a subject line to determine which one results in the highest open rates. Similarly, it can analyze which images or graphics lead to higher click-through rates. This level of detailed analysis ensures that every aspect of the email is optimized for success.
Furthermore, with the rise of natural language processing (NLP), AI can craft email content that sounds human-like. This means that emails can be written in a way that resonates with the recipient, leading to higher engagement.
Another advantage of AI-driven content optimization is the ability to adapt in real-time. If AI detects that a particular piece of content isn't resonating with users, it can adjust the content for future emails, ensuring continuous improvement in engagement rates.
Automated Email Campaigns with AI
The power of AI extends to automating email campaigns. From triggered emails based on user behavior to drip campaigns that nurture leads over time, AI ensures that the right message reaches the right person at the right time. This level of automation not only saves time but also ensures consistency and relevance in communication.
One of the significant benefits of AI-driven automation is the ability to send emails at the optimal time for each recipient. Instead of sending emails in bulk at a fixed time, AI can determine when each user is most likely to open the email, increasing the chances of engagement.
Furthermore, AI can automate complex email sequences. For instance, if a user abandons their shopping cart, AI can send a series of reminder emails, each tailored based on the user's behavior. This level of personalization can significantly increase conversion rates.
Another advantage of AI in email automation is its ability to adapt based on user behavior. If a user frequently opens emails but never clicks on any links, AI can adjust the content of future emails to make them more engaging for that particular user.
AI Analytics and Performance Tracking
One of the significant advantages of using AI in email marketing is the enhanced analytics capabilities. AI-powered tools can track performance metrics in real-time, from open rates to conversions. Moreover, AI can provide predictive insights, helping marketers refine their strategies for future campaigns.
With AI analytics, marketers can get a deeper understanding of their audience. They can see which segments are most engaged, which content resonates the most, and even predict future trends based on past behavior.
Furthermore, AI can provide actionable insights. Instead of just presenting data, AI can offer recommendations on how to improve future campaigns. Whether it's changing the content, adjusting the send time, or refining the target audience, AI ensures that marketers have all the information they need to succeed.
Another advantage of AI analytics is the ability to track the customer journey. By analyzing how users interact with emails and the subsequent actions they take on the website, AI can provide a holistic view of the customer journey. This information is invaluable in refining email strategies to ensure maximum conversions.
The Future of AI in Email Marketing
As AI technology continues to evolve, its impact on email marketing will only grow. From improved natural language processing to AI-driven recommendations for optimal send times, the future promises even more personalization, automation, and data-driven campaigns.
One of the exciting prospects for the future is the integration of AI with other technologies. For instance, combining AI with augmented reality (AR) or virtual reality (VR) can lead to incredibly immersive email experiences.
Furthermore, as AI becomes more advanced, it will be able to understand the nuances of human emotion better. This means that future email campaigns can be tailored not just based on behavior but also on the emotional state of the recipient.
Another trend to watch out for is the rise of voice-activated assistants. As more people use devices like Amazon's Alexa or Google's Assistant, email campaigns will need to be optimized for voice. AI will play a pivotal role in ensuring that email content is voice-friendly and easily accessible through these devices.
Challenges and Considerations for AI in Email Marketing
While AI offers numerous benefits, it's essential to be aware of the challenges. Data privacy, the need for skilled personnel, and balancing automation with human creativity are just a few considerations. However, with the right approach, these challenges can be addressed, ensuring that AI enhances rather than replaces the human touch in email marketing.
One of the primary concerns when integrating AI into email marketing is the ethical use of data. With AI's capability to process vast amounts of personal information, there's a risk of misuse or breach. Marketers must ensure that they're transparent about how data is used and that they have the necessary security measures in place to protect user information.
Another challenge is the potential over-reliance on AI. While automation and personalization are beneficial, there's a fine line between helpful and intrusive. Marketers need to strike a balance to ensure that emails don't come off as too robotic or impersonal. The human touch, intuition, and creativity should still play a significant role in crafting email campaigns.
Lastly, there's the challenge of keeping up with the rapid advancements in AI technology. As AI continues to evolve, marketers need to stay updated with the latest tools, techniques, and best practices. This requires continuous learning and adaptation, ensuring that email marketing strategies remain effective and relevant in the ever-changing digital landscape.
Conclusion
AI's role in optimizing email campaigns is undeniable. From personalization to automation, AI is setting new standards in email marketing. By harnessing the power of AI, businesses can ensure their emails not only reach their intended audience but also resonate with them, leading to higher open rates and engagement.
The integration of AI into email marketing represents a significant shift in how businesses communicate with their audience. With the ability to analyze and predict user behavior, AI offers a level of personalization and relevance previously unattainable. However, with these advancements come challenges that marketers must navigate.
As we move forward, the synergy between AI and human creativity will be crucial. While AI provides the tools and insights, it's the human touch that brings warmth, authenticity, and connection to email campaigns. By embracing the best of both worlds, businesses can craft email campaigns that not only stand out in crowded inboxes but also foster genuine relationships with their audience.
In conclusion, the future of email marketing is bright, with AI leading the way. By understanding its potential and addressing its challenges, businesses can leverage AI to create impactful, resonant, and successful email campaigns.
Massachusetts Medical Board License Verification
State Bar Lawyer Search Michigan
Washington Attorney Bar Search
California Contractors License Board Roofing License Lookup
CLD Permit Test MN Appointment
North Dakota Lawyer License Lookup
Longmont DMV Driving Test Appointment
Louisiana Department of Labor Phone Number
Kaiser Appointment Line Number
State Bar of Attorney Search DC
Minnetonka DMV Schedule Appointment
Americas Tire Schedule Appointment
MT Real Estate Broker License Check
Schedule Urgent Care Appointment Presbyterian
Maine Insurance Department (MAIN PFR)
The Oklahoma Department of Public Safety Oklahoma City, OK Appointment
New Jersey Relator License Verification
Find Insurance Agent License Indiana
Change an Appointment for CDL Written at DPS Texas
Massachusetts Corrections Department
Massachusetts Board of Registration in Nursing
New Mexico Real Estate Commission Lookup
Florida Real Estate Commission License Search
Michigan Insurance Department License Lookup
Life and Health Insurance License Lookup NC
Business Name Availability Utah Search
Missouri Pharmacy Board Search
Virginia Real Estate Board Licenses Check
Sephora Makeup Book Appointments
CA Insurance License Lookup By Number
Iowa State Department of Labor
Wisconsin Secretary of State Business Search (WI SOS)
Attorney Bar Number Search New York
Missouri Physician License Lookup
Puerto Rico Contractors Board License Verification
New Jersey Board of Dentistry License Lookup
Reschedule an Appointment for Georgia Lottery
Oregon DMV License Plate Check
Insurance Agency License Lookup Georgia
TDI Escrow Officer License Lookup
OK Dept of Corrections Phone Number
Jefferson County Inmate Lookup
Colorado DMV Appointment Pueblo
State Board of Pharmacy Missouri
N.C. Real ID Appointment Online
Colorado Life and Health Insurance License Lookup
Dental Board of NY Dentist License Verify
SOS Business Search New Mexico
Cancel an Appointment for DISH Network
Make a TLC Exam Appointment Online
Maine Nurse Practitioner License Verification
Salt Lake City International Airport Parking Options
DMV Opelousas Schedule Appointment
Colorado State Contractors Board
Drivers License ID Number Lookup Texas
Larimer County DMV Appointment
MVA Easton MD Make an Appointment
Utah Secretary of State Corporations Search
Kentucky Free Driver License Number Lookup