5 Locations That You Can Run Your Digital Marketing Start-up From
You want to run a start-up. You've picked the industry you want to work in, found the problem your product or service will solve, researched your target market, your preferred communication channels, and tone of voice, and so on. No matter if you want to start a shop, a crisis communications firm, an SEO agency, or a yoga class, one of the questions that should come to your mind when planning your business is what location is suitable for your start-up.
As most of your digital marketing start-up will probably be located in the cloud, you can choose virtually any place to run your business. For example, you can rent a desk in an open-space office, take your business to a local library or coffee shop, or if you want to avoid co-working spaces, you can set up your workspace in your garage.
If you are not sure what is the best place to choose for your business, this article will help you find the one that suits you best. Below, you will find a list of 5 locations that you can run your digital marketing start-up from. Continue reading to find out more!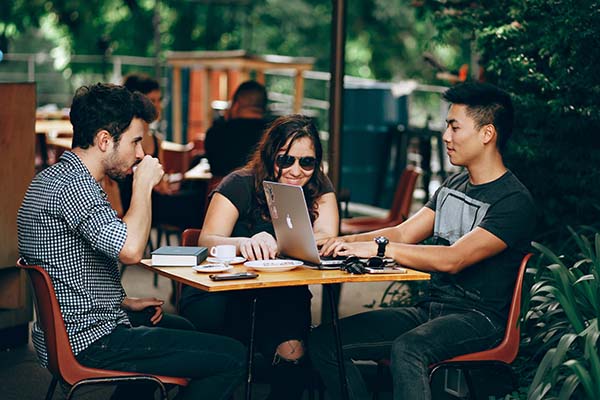 The Office Space
If you have some spare money, it is a good idea to rent an office for your start-up. This option is an excellent choice if you plan to work with a team for a longer time. Having your own office will also allow you to customize it in any way you want. You can make some minor changes to the office space to make it more comfortable. For example, you can buy some furniture for your office or hang some décor on the wall.
The biggest benefit of renting an office for your digital marketing start-up is that you can invite potential clients to your office. This will help you create a better impression of yourself and your business. If you are planning to grow quickly, this is the best option for you.
Of course, it's not the cheapest option, but if you think it can benefit your business, you can look for other ways to reduce the costs. For example, use energy-efficient lighting solutions, look into supply expenses, invest in digital and virtual technologies, check the cheapest way to send a parcel, focus on modern marketing methods that don't require any capital (e.g., networking, social media), go paperless, and so on.
The Garage
If you want to start a digital marketing start-up and don't have the money to rent a coworking space, you can always work from your garage. If you have a big family and there is no room for your start-up, this is the best place to set up your office. But it is not just about money – working from your house can give you a lot of privacy and save you the stress of commuting to an office every day.
If you plan on working from home, there are many things you need to consider – security, internet speed, and noise. You need to make sure that it will be comfortable enough to work in. And if you want to invite your potential clients to your office, it may require some more changes, like a garage door with pedestrian access.
The Co-Working Space
If you want to rent a desk in a co-working space, there are many options available – you can choose between private and open-space offices. Co-working spaces provide their members with shared office space. These spaces are usually cheaper than private offices, but they also provide you with some benefits that you can't get in a garage or at home.
First of all, working in a co-working space will help you build your network – you will meet other freelancers, entrepreneurs, start-ups, etc., which can be very helpful when you are starting your business. Another benefit is the availability of resources. Co-working spaces usually have everything you need to set up your business, like access to printers, meeting rooms, or even some expensive equipment such as 3D printers.
The Coffee Shop or Local Library
Public places like coffee shops are great places to work from. They are usually cheap, provide fast internet access, and are filled with people interested in what you are doing. Working in a coffee shop or the library is a great way to meet new people and find potential clients.
Some people enjoy the atmosphere of a coffee shop or the library, which makes it easier for them to focus on work. If you want to avoid distractions, you can always choose a quieter place like a corner in the back of the room. All in all, working from a coffee shop or library can be a great experience. You can always move to another one if you are not satisfied with what you have.
The Student Dorm Room
If you are a student, you can always ask your landlord if you can set up your office in the common living room or your dorm room. This option is great if you don't have money to rent a separate space for your start-up. It can also come in handy if you are working with a partner who is also a student.
The most significant benefit of working from a student dorm room is that you can increase your network of potential customers and partners. You can always meet with them to discuss new ideas, do some brainstorming, organize promotional events, or even do some work together.
To Sum Up
If you are thinking about starting a digital marketing start-up, there are a lot of different places you can run it from. No matter what location you choose, you will have to spend some time in your office, so make sure that you have enough privacy. If you want to be surrounded by people, then you should choose a coffee shop or library. If you want to stay focused and get rid of distractions, then maybe working from your garage is the best option for you.
Hopefully, this article has helped you decide where the best place is to run your digital marketing start-up. Remember – the location is only one part of your business. If you want to run a successful business, you will need to be focused and work hard. Good luck!