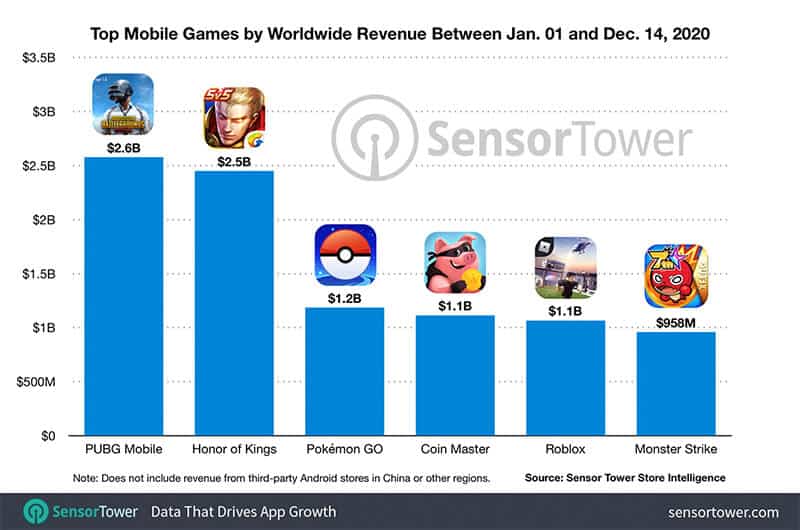 Five mobile games that broke the $1 billion revenue barrier this year
Discover the top mobile games revenue list as a record five mobile games including PUBG Mobile and Honor of Kings from Tencent have generated more than $1 billion in 2020 so far, Sensor Tower Store Intelligence data shows.
PUBG Mobile, combined with the Chinese localization of the title, Game For Peace, is the No. 1 revenue-generator globally across the App Store and Google Play in 2020, accumulating close to $2.6 billion since the start of the year, up 64.3 percent from 2019. Honor of Kings, meanwhile, has picked up close to $2.5 billion in player spending, up 42.8 percent from the year prior.
Ranking in No. 3 is Pokémon GO from Niantic, which has accumulated $1.2 billion to date, up 31.5 percent from 2019, making it the game's best year ever. The title has benefitted from a string of updates to help players continue playing amidst the global COVID-19 pandemic and lockdowns. Ranking in No. 4 is Coin Master from Moon Active, which generated $1.1 billion, a more than two-times increase from last year. The title has grown rapidly since the beginning of 2019, with its best month ever coming in November 2020, when it picked up close to $118 million. Roblox from Roblox Corporation rounds out this year's billion-dollar games to date, with the hugely popular MMO nearly doubling its 2019 mobile revenue to $1.1 billion. Off the back of the title's cross-platform success, the company is heading for an IPO next year.
Top Mobile Games Revenue
1) PUBG Mobile Revenue: $2.6 Billion
2) Honor of Kings Revenue: $2.5 Billion
3) Pokémon Revenue: $1.2 Billion
4) Coin Revenue: $1.1 Billion
5) Roblox Revenue: $1.1 Billion
6) Monster Strike Revenue: $958 Million
Read more here.