AI Innovation on LinkedIn: What B2B Marketers Need to Know
LinkedIn has rolled out several new AI-powered features over the past year that provide marketers with more opportunities to engage their B2B audiences. As the world's largest professional network with over 810 million members, LinkedIn offers unparalleled reach for brands looking to connect with decision makers and build relationships. With the addition of AI tools, marketers can now create more personalized and relevant experiences at scale. In this article, we'll explore the top AI features on LinkedIn and how to use them effectively for B2B marketing.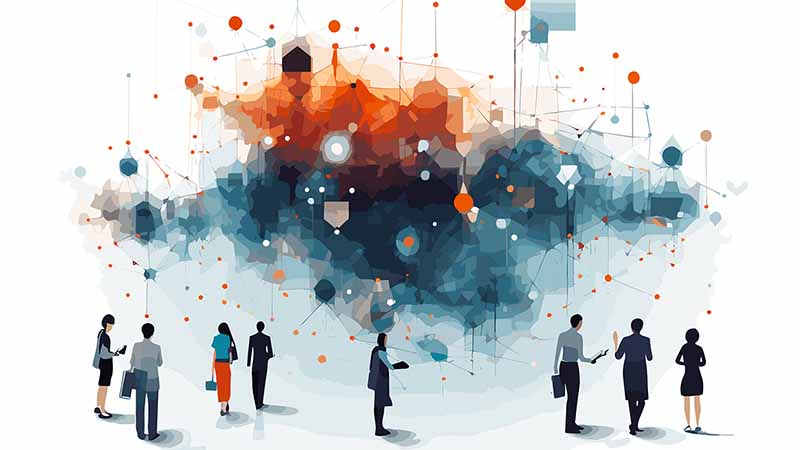 LinkedIn Conversation Ads
One of the most exciting new ad formats is LinkedIn Conversation Ads. These ads allow you to start automated conversations with prospects using AI. When a prospect engages with the ad, they can ask questions or request information, which triggers relevant follow-up messages from your configured chatbot.
Here are some tips for optimizing Conversation Ads:
Personalize the initial ad copy to resonate with your target audience. Focus on showcasing value propositions.
Program the chatbot flows to be helpful and human-like. Offer links to gated content, product demos, pricing, etc.
Set up lead gen forms within the Conversation Ad flow to capture prospect info.
Monitor performance and optimize flows based on real conversational data and feedback.
Conversation Ads are ideal for capturing prospect contact information and scheduling meetings or demos. Be sure to provide quick-access calendar booking links within the chat sequences. Prospects appreciate the convenience of scheduling a meeting without having to respond to lengthy email chains.
You can retarget prospects who engaged with your Conversation Ads but did not convert. Create lookalike audiences and target them with personalized follow-up messaging. This helps continue nurturing prospects already expressing interest.
LinkedIn Auto Responders
LinkedIn Auto Responders are AI-powered tools that allow you to automatically send customized messages to new followers and those who engage with your LinkedIn posts. This helps you establish connections at scale.
To maximize effectiveness:
Personalize your auto responder messages with the recipient's name, company, etc.
Send a series of 2-3 messages over time rather than just one message.
Use the messages to provide value – share relevant articles, guides, event invites, etc.
A/B test different types of auto responder content to see what resonates most.
When designing your Auto Responder workflows, aim to elicit a reply from prospects. Ask questions about challenges they face or content they'd like to see. This sparks two-way dialogue versus a one-off broadcast message.
Integrate your auto responders with a CRM to track prospect engagement over time. Identify when prospects are sent each message and if they engage further. This data helps refine content and outreach cadences.
LinkedIn Chatbot Integration
LinkedIn now enables 3rd party chatbot integrations. This means you can deploy chatbots to automatically respond to messages and requests from your LinkedIn followers. Key steps include:
Select a chatbot platform that fits your needs like Drift, Intercom, or ManyChat.
Integrate the platform with your LinkedIn account.
Build out chatbot conversations to handle common queries at scale.
Program the chatbot to transfer complex leads to a real sales rep.
Your LinkedIn chatbot can handle simple scheduling and calendaring requests instead of your sales team expending effort on administrative tasks. Empower your chatbot to directly book meetings or demos with prospects at their convenience.
Monitor chatbot conversations in real-time and continuously improve bot responses. Identify topics that require human intervention and expand the knowledge base to allow more self-service. This maximizes chatbot effectiveness over time.
LinkedIn Lead Gen Forms
LinkedIn recently updated its Lead Gen Forms feature. You can now create forms and place them in various locations like LinkedIn ads, Company Pages, and Sponsored Content. This provides an easy way to collect lead contact information.
Best practices for optimizing Lead Gen Forms:
Keep forms short with just essential fields like name, email, phone number required.
Offer a compelling offer in exchange for completing the form like a discount, content download, contest entry, etc.
Test different questions and fields to identify which yield higher lead quality and conversion rates.
Insert forms on pages targeted to your ICPs where prospects are more inclined to convert.
Experiment with different types of gated offers to identify what motivates your prospects. Consider using lead gen forms to gate industry reports, how-to guides, assessments, live demos, and more.
Capture important context like company, role, business goals when prospects fill out forms. This allows for better lead scoring and immediate personalization in follow-up outreach.
LinkedIn Profile Recommendations
LinkedIn uses AI to provide tips on how to improve your Company Page and employee profiles to increase visibility. Recommendations may include adding multimedia, a background photo, descriptions, etc.
Leverage Profile Recommendations by:
Checking Company Page and personal profiles regularly for recommendations.
Implementing the quick fix suggestions to create more robust profiles.
Comparing employee profiles against recommendations to identify gaps and areas of improvement.
Measuring the impact that profile updates have on engagement and follower growth.
Encourage employees to provide feedback on their LinkedIn profile recommendations. They may surface ideas to better showcase expertise, passion projects, awards, volunteer work.
Tie profile updates to campaigns promoting thought leadership, culture, career growth. This rallies employees around improving their brand presence.
LinkedIn Campaign Manager
LinkedIn Campaign Manager provides AI-powered insights to optimize your ad campaigns. Features include:
The AI Insights tool gives recommendations to improve campaign performance based on your target audience, creative assets, and bid strategies. Implementing these personalized tips can lift campaign results.
Smart Traffic determines the optimal distribution of your ad budget across auctions, locations, days, and times. This auto-optimization maximizes campaign reach and conversion value.
Conversion Learning models the likelihood of different prospects converting based on historical data. You can focus spend on audiences most likely to convert to get better ROI.
LinkedIn Company Brand Toolkit
This toolkit leverages AI to streamline brand management and amplification on LinkedIn. Capabilities include:
Brand Insights provides data on how your brand is resonating with followers – top content, keywords, impressions. Optimize messaging based on these insights.
Company Page Diagnostics identifies opportunities to improve your presence with AI page checklists and recommendations.
Content Suggestions uses AI to recommend topics and formats to create content that engages your audience.
The toolkit's intuitive AI makes maintaining your brand presence easy. No more guessing what resonates most with your followers and prospects.
LinkedIn Elevate
Elevate is LinkedIn's AI-powered coaching app that provides real-time tips for creating engaging posts and content. Benefits include:
Post Suggestions proposes ideas and reminders for your next post tailored to your audience's preferences.
Writing Assistance gives you AI-generated ideas for developing post descriptions, headlines, and paragraphs.
Post Analytics evaluates the performance of your recent posts and suggests ways to refine your approach.
Elevate's AI coach will improve your content over time by providing data-driven feedback and recommendations. More effective posts translate to higher engagement.
Summary
LinkedIn's continuing innovation in AI provides B2B marketers with more ways to scale personalized engagement throughout the buyer's journey. From Conversation Ads for automated lead engagement to Profile Recommendations for improving discoverability, the AI features enable more relevant experiences. Companies willing to test and optimize these tools based on data and insights will see significant returns from their LinkedIn marketing investment.
Department of Insurance Virginia License Lookup
Teachers Certification Lookup VA
TSA Precheck Enrollment Center Appointment
Tennessee Health License Verification
Insurance Agents License Lookup
Teacher Certificate Look Up New York
AL Teachers Certification Verification
Tennessee Medical License Look Up
Texas Teacher Certification Check
DMV Appointments Williamsburg VA
Book an Appointment for Driving Permit Test at Arizona DMV
Georgia DMV Appointment Atlanta
Massachusetts DESE License Search
Larimer County License Plates Appointment
Florida Life Insurance License Lookup
TSA Precheck Staples Appointment
Arizona State Board of Dental Examiners License Lookup
Verify a Real Estate Broker In Nevada
Book an Appointment for Motorcycle Permit Test at Wisconsin DMV
Hillsborough County Tax Collector Appointment
Safelite Auto Glass Appointment
Maine Vehicle Information Check
Ohio Board of Dental Examiners License Lookup
JCPenney Portrait Studio Appointment
Colorado Physical Therapy License Verification
Quest Diagnostics Lab Make Appointment
RMV Massachusetts Schedule Appointment
Nebraska Secretary of State Corporation Lookup
Virginia Department of Education License Lookup
Texas Board of Dentistry License Lookup
Reschedule a TLC NYC Appointment
FL Department of Corrections Inmate Search
Teaching License Lookup Montana
Change an Appointment for Georgia Lottery
Wisconsin Teacher Certificate Look Up
Florida Department of Business & Professional Regulation License Search
Missouri BOP License Verification
MI Real Estate Broker License Lookup
DMV Appointment Schenectady NY
TLC Drug Test Appointment Online
Life and Health Insurance License Arizona Search
State Insurance Iowa License Look Up
DCP Home Improvement Contractor License Lookup