Elevate Your Instagram Strategy with the Power of AI
In the digital age, Artificial Intelligence (AI) has become a game-changer for many industries, and social media marketing, especially on platforms like Instagram, is no exception. The integration of AI technologies has transformed the way brands strategize, create, and distribute content on Instagram. This article delves deep into understanding how AI is elevating Instagram campaigns, making them more efficient, targeted, and engaging.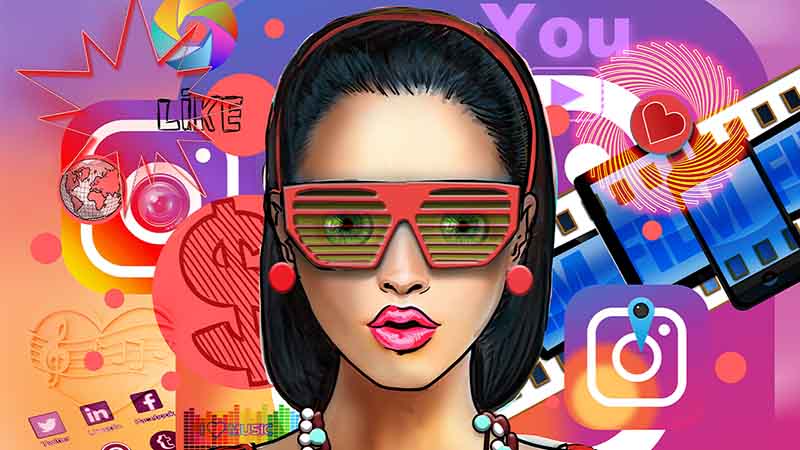 The rise of AI in social media marketing is undeniable. With the vast amounts of data generated by users daily, AI tools have become indispensable in analyzing and interpreting this information. By leveraging AI, brands can gain a deeper understanding of their audience's preferences, behaviors, and engagement patterns. This data-driven approach allows for more personalized and relevant content, ensuring that brands resonate more effectively with their target audience.
Furthermore, AI-powered tools have streamlined many aspects of Instagram marketing. From content creation to scheduling, these tools have automated processes that previously required extensive manual effort. For instance, AI-driven content generators can produce engaging posts based on trending topics or user interests. Similarly, AI-powered analytics tools can provide real-time insights into post performance, helping marketers adjust their strategies on the fly.
One of the most significant advantages of integrating AI into Instagram marketing is the ability to predict trends. By analyzing vast amounts of data, AI algorithms can identify emerging patterns and preferences among users. This predictive power enables brands to stay ahead of the curve, capitalizing on trends before they become mainstream. As a result, brands can position themselves as industry leaders and innovators, further enhancing their credibility and appeal on the platform.
Personalized Content Creation
One of the primary benefits of AI in Instagram marketing is the ability to create personalized content. AI algorithms analyze user behavior, preferences, and interactions to curate content tailored to individual users. This ensures that the posts are not only engaging but also resonate with the target audience. By understanding what type of content a user prefers, brands can craft posts that are more likely to get likes, comments, and shares.
Streamlined Content Strategies with AI
The extensive use of AI tools in Instagram marketing has made content strategies more streamlined and manageable. By analyzing patterns and data from user interactions, AI provides solutions that help brands overcome the challenges of content saturation on the platform. With millions of posts being shared every minute, standing out becomes a daunting task. However, AI-driven strategies ensure that brands can create content that not only aligns with their brand voice but also captures the attention of their target audience.
AI-Driven Insights for Improved Engagement
Furthermore, AI in Instagram marketing goes beyond just content creation. It offers actionable insights that can significantly improve engagement rates. For instance, AI tools can provide reports on the best times to post, the type of content that resonates with the audience, and even predict future content trends. These data-driven insights allow brands to make informed decisions, ensuring that their content not only reaches the right people but also sparks meaningful interactions.
Enhanced Ad Targeting
Instagram ads powered by AI offer a level of precision in targeting that was previously unattainable. By analyzing vast amounts of data, AI can identify the most relevant audience segments for a particular ad campaign. This means brands can ensure their ads are seen by users who are most likely to be interested in their products or services, leading to higher conversion rates and better ROI.
Optimizing Ad Spend with AI
The efficiency of AI in ad targeting also translates to cost savings for brands. With AI's predictive capabilities, advertisers can allocate their budget more effectively, ensuring that every dollar spent yields the maximum return. Instead of casting a wide net and hoping for the best, AI-driven campaigns focus on reaching the right users at the right time, minimizing wasted ad spend and maximizing impact.
Real-time Ad Adjustments for Maximum Engagement
Another advantage of AI in Instagram ad targeting is its ability to make real-time adjustments. As user behaviors and preferences change, AI algorithms can instantly tweak ad parameters to ensure continued relevance. This dynamic approach ensures that ads remain engaging and effective, even in a constantly evolving digital landscape.
Predictive Analysis for Content Performance
AI doesn't just help in content creation; it also predicts how well a post will perform. By analyzing historical data and current trends, AI can forecast which posts are likely to get the most engagement. This allows brands to tweak their content strategy in real-time, ensuring that they always stay ahead of the curve.
Dynamic Content Adjustments with AI
The power of AI extends beyond mere predictions. It enables brands to make dynamic content adjustments based on real-time data. For instance, if a post isn't performing as expected, AI tools can suggest modifications in content, visuals, or even hashtags to enhance its appeal. This adaptability ensures that brands can pivot their strategies quickly, capitalizing on what's working and discarding what's not.
Enhanced Decision Making Through AI Insights
Moreover, the insights derived from AI's predictive analysis are invaluable for decision-making. Brands can identify which content themes resonate most with their audience, the best times to post, and even the optimal frequency of posting. Such granular insights empower brands to make informed decisions, optimizing their content strategy for maximum engagement and reach.
Automated Customer Engagement
Engaging with followers is crucial for brand loyalty and growth on Instagram. AI-powered chatbots and automated response systems ensure that users receive instant replies to their queries, comments, or messages. This not only enhances user experience but also fosters a sense of community and trust among followers.
24/7 Customer Support with AI
The beauty of AI-driven customer engagement tools is their ability to provide round-the-clock support. Unlike human customer service representatives who might be unavailable during off-hours, AI chatbots are always ready to assist. This consistent availability ensures that no query goes unanswered, enhancing the brand's reputation and reliability in the eyes of its followers.
Building Deeper Connections through AI Insights
Furthermore, AI doesn't just offer automated responses; it can provide personalized interactions based on a user's history and preferences. For instance, if a follower frequently engages with posts about a specific product, the AI system can offer tailored recommendations or exclusive deals related to that product. Such personalized interactions make followers feel valued and understood, deepening their connection with the brand.
Real-time Analytics and Insights
The power of AI extends to providing real-time analytics and insights. Brands can get instant data on how their posts are performing, which hashtags are trending, and what kind of content their audience prefers. These insights are invaluable for refining marketing strategies and ensuring that brands remain relevant and engaging on the platform.
Instant Feedback for Content Optimization
With AI-driven analytics, brands no longer have to wait for days or weeks to gauge the success of their posts. They receive immediate feedback, allowing them to make necessary adjustments on the fly. Whether it's changing a caption, tweaking a hashtag, or even reposting at a different time, AI insights empower brands to optimize their content for maximum engagement.
Understanding Audience Behavior at a Granular Level
Beyond just numbers, AI analytics delve deep into audience behavior. They can identify patterns, such as when users are most active, which type of content they engage with the most, and even how they navigate through the brand's profile. This granular understanding of audience behavior is a goldmine for brands, enabling them to tailor their content and campaigns to resonate more deeply with their followers.
Summary
The integration of AI in Instagram marketing has ushered in a new era of precision, efficiency, and engagement. From crafting personalized content to providing real-time insights, AI is truly elevating Instagram campaigns to new heights. As technology continues to evolve, it's clear that the future of Instagram marketing will be heavily intertwined with the advancements in AI.
The digital landscape is ever-evolving, and brands need to stay agile to remain relevant. AI provides the tools and insights necessary for brands to adapt swiftly to changing trends and user behaviors. With AI's predictive capabilities, brands can anticipate shifts in the market and adjust their strategies proactively. This proactive approach ensures that brands are always a step ahead, positioning themselves effectively in the dynamic world of Instagram marketing.
While AI offers unparalleled data analysis and automation capabilities, the human touch remains irreplaceable. The future of Instagram marketing lies in the perfect synergy between human creativity and AI-driven insights. Brands that harness this combination will be able to craft authentic, relatable content backed by data-driven strategies. This blend of art and science will set the gold standard for Instagram campaigns in the coming years.
Make an Appointment for Learner's Permit Test at Montana DMV
New Jersey Real Estate Agent License Lookup
New Mexico Verify a Contractor
Reschedule an Appointment for Western Dental
South Carolina Board of Pharmacy (SCBOP)
Costco Book Appointment for Oil Change
Michigan Pharmacist License Verification
Make an Arrowhead Regional Medical Center Appointment
Michigan LARA Contractor License Lookup
Willmar DMV Written Test Appointment
Oklahoma Osteopathic License Verification
DORA Contractor License Lookup
Book a Bioreference Appointment
Mayo Clinic International Appointment
Tennessee CNA License Verification
Fred Meyer Flu Shot Appointments
Cancel an Appointment for Drivers License Renewal at Missouri DMV
Book an Appointment for Motorcycle Permit Test at Kansas DMV
Make an Appointment for Drivers Test at Missouri DMV
Reschedule an Appointment for Driving Permit Test at New Mexico DMV
Plano Drivers License Office Appointment
Appointment for Written Test at DMV Georgia
DMV Appointment Cancel California
Schedule an Appointment for Drivers License Renewal at Las Vegas DMV
NJ DMV Vehicle Inspection Appointment
Appointment for Drivers License at Delaware DMV
www FLHSMV Gov Make an Appointment
Fulton County Tag Office Appointment
Make an Appointment for Las Vegas DMV
MD Nurse Practitioner License Verification
Appointment for Motorcycle Permit Test at Florida DMV
Universal City Nissan Service Appointment
Georgia Nurse Aide Registry Search
Schedule an Appointment for Real ID at Oregon DMV
Change an Appointment for Registration at Utah DMV
Virgin Islands Secretary of State (Virgin Islands SOS)
South Carolina RN License Lookup
Minnesota Board of Dentistry License Lookup
VERIFY ANY BOP PHARMACIST LICENSE BY STATE
DMV Decatur Las Vegas Appointment
Healthpartners Appointment Center
Las Vegas Nevada DMV Appointment
CT Department of Corrections Inmate Search
Make an Appointment DMV Wichita KS
Texas DPS Same Day Appointment
Texas Credential Teacher Lookup
Dallas Drivers License Appointment
Crest Honda Service Appointment
Teacher Certification Lookup Delaware
Book Appointment Aveda Institute