WordPress 5.6 Features & Improvements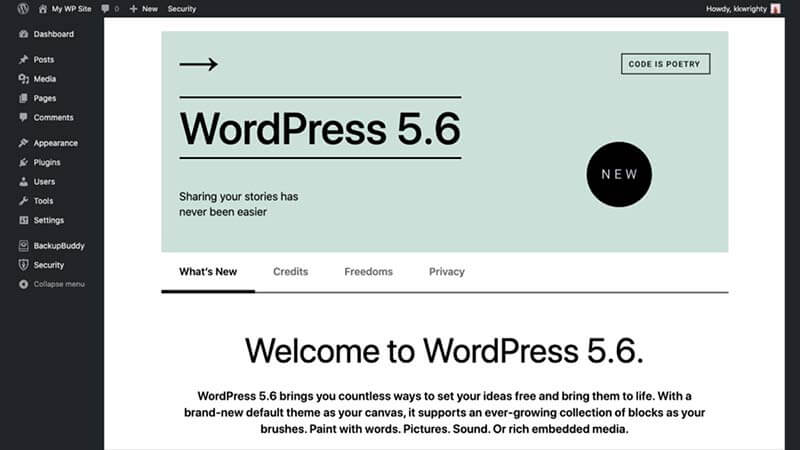 Source: WordPress
Discover the latest features and updates coming with the WordPress 5.6 new release from December 8, 2020, the 3rd WordPress core release in the past 12 months.
WordPress 5.6 has a focus on improving the WordPress block editor, strengthening security (specifically, expanding auto-updates), lots of improvements that developers will love, and a brand new default theme, Twenty Twenty-One.
In this post, we what's new in WordPress 5.6 so you can get the most out of this version of WordPress. Let's dig in!
What are the main changes with WordPress 5.6?
* WordPress 5.6 will update to the latest version of jQuery and jQuery Migrate. This update is important for security.
* Older themes and plugins using deprecated jQuery syntax will break like they did with WordPress 5.5.
* The phases of the jQuery update were announced back in June, which should have given developers plenty of time to fix issues.
* The jQuery Migrate Helper Plugin that was released as a band-aid will still work, but it's time to update your themes and plugins.
If you find issues with the way your site looks (e.g. a slider doesn't work, a button is stuck — that sort of thing), install the jQuery Migrate plugin—for now. The plugin has been updated to work for WordPress 5.6, but it is still a temporary solution.
WordPress 5.6 Features & Improvements
1) Auto-Updates For WordPress Core UI
2) Block Editor Updates Added From the Gutenberg Plugin
3) More Block Patterns
4) New Default Twenty Twenty One Theme (2021)
5) Cover Block Video Position Controls
6) Character Count
7) Background Patterns For Cover Blocks
8) Transform Multiple Blocks into Columns Block
9) Support for Video Subtitles
10) New Settings in the Preferences Modal
11) Site Health Check Improvements
12) Application Passwords
13) jQuery Update
14) PHP 8
15) REST API Updates
16) New Block API, Version 2
Read more here.
[optin-monster slug="em8z7q6hga9elmy1dbgb"]