Top 12 SaaS Software for Businesses Managing Data
SaaS software has revolutionized the way we are doing business and using technology. They have reduced the overall risks that come with managing data and have maximized the total associated benefits.
The SaaS world has much top software you can use to manage your data effectively. After all, when there are large amounts of data to manage, it may get tricky from time to time if you aren't using the right software.
Furthermore, in this article, we will show you the top SaaS software you can use for managing business data.
Top 12 SaaS Software For Managing Data
1) Osano 

Osano is one of the best data privacy platforms out there and helps businesses and websites act in compliance with data privacy's international regulations (you can read this article on the General Data Protection Regulation).
Compliance with international laws regarding data privacy and management remains a huge challenge for many businesses. Osano does the work for you and even teaches you all about the GDPR, the California consumer privacy act (CCPA), and what you need to know before using and managing private data.
In short, we think it is an excellent choice and provides top quality for data management. Prices with Osano begin free and go up to $199 per month. Moreover, you can choose a more advanced plan that will add custom pricing. Pretty good options!
2) Lightspeed 
Lightspeed is an inventory management software that organizes inventory and the data that comes with it. Unorganized inventories and data can lead to unnecessary stress for retail businesses. Whether you like it or not, you must keep your data and inventory as organized as possible.
Several benefits come along with fantastic inventory management software such as:
* Maximizing profits
* Determines how large order can be to minimize storage
* Avoids excessive stock
* Saves time
* Reduces costs
Prices with Lightspeed begin anywhere from $69 per month up to $199 per month with their most advanced plan.
3) Productiv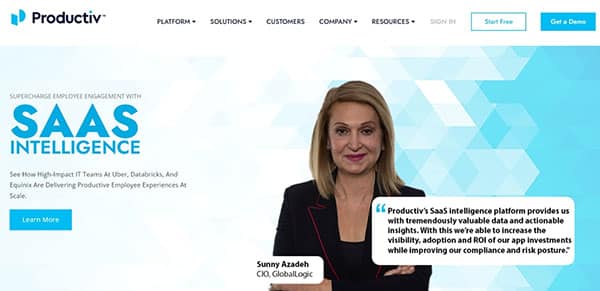 Productiv is a SaaS management software that looks at applications' engagement rate and analytics. This helps you and your company determine how well you and your staff are collaborating with the software.
In short, Productiv helps access and gather all required information after a user logs into a system. In other words, it assists you in getting better renewals and better license allocations.
Pricing with Productiv starts for free, but if you want to use their more advanced features, you can request a demo on their website, and then they will tell you all of their monthly pricing plans.
4) Zluri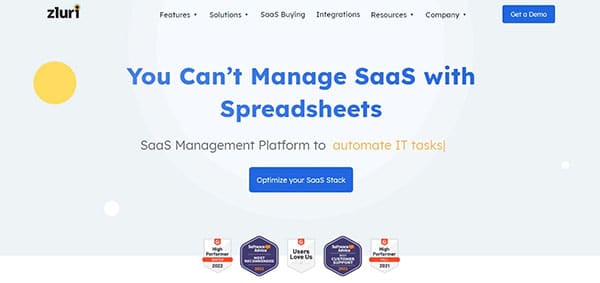 Zluri is a SaaS management platform that specializes in reducing SaaS wastage. The platform helps you eliminate duplicate apps, highlighting all underused tools and overlapping functions.
Security with Zluri is enhanced when unsecured apps are removed and managing the risk associated with these risks. IT tasks like onboarding, renewals, and procurement can be automated with Zluri.
Pricing with Zluri begins with a free trial and is available for all kinds of organizations with less than 25 employees. However, if you want to go with their paid plans, you have to contact Zluri as their pricing isn't publicly available on their site.
5) Tori

Tori has been specifically designed for IT professionals to discover, maintain, and analyze all SaaS applications used within the company. Tori helps you transform your company's cloud software stack into a user-friendly and readable one.
Furthermore, you can get full control of your entire environment without interrupting users with the shadow IT management feature.
Pricing with Tori starts for free and goes up to $28 per month with their more advanced plan. Moreover, you receive a 30-day trial to see if it's the right fit for you or not.
6) Onetool
Onetool allows you to access all the SaaS software you require in only one subscription, eliminating the need to subscribe to multiple plans; you have everything in one. In short, it is one of the best software for managing your data into one single app.
Onetool gives you all tools that you require into the single plan you subscribe to, and with this, you're only paying for one monthly payment, eliminating the need to pay many payments at once.
The monthly prices with Onetool begin at $5 per user per month and don't offer any free trial that goes with it.
7) BetterCloud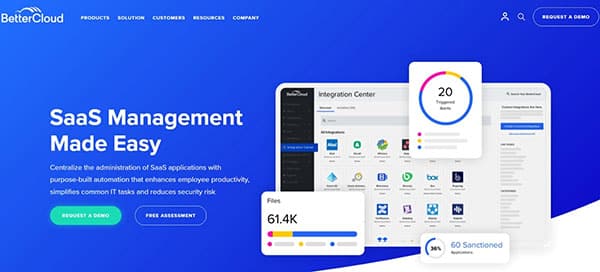 BetterCloud is one of the top SaaS management platforms that offer the maximum level of automation. Additionally, you get information on critical insights and data security. With the software, you have the ability to overlook all of your SaaS subscriptions and manage key data effectively across your organization.
The massive advantage of BetterCloud is the quick alerts it gives you for any issues that arise while using it. Moreover, you can manage all user-profiles and passwords and set up customized reports with over 100 attributes.
Pricing with BetterCloud begins at $3 per user per month, whereas no free trial comes with its subscriptions.
8) Coreview
Coreivew is a SaaS management software popular for continuously updating, monitoring, and providing security solutions for all of its users. The software has a 365 management feature and has advanced built-in features that allow companies to manage their security processes administrative work and fully optimize the licensing process.
Let's not forget that Coreview has an established partnership with Microsoft and uses the 365-management tool. This way, customers save time and lower their margin of error when using the software.
Pricing with Coreview begins with an annual price of $10 per user. 
9) Sailpoint 

If you want a management SaaS platform for identity governance, Sailpoint is your right choice. Most of the most significant challenges data management faces are compliance, in-depth analytics, and password management, while Sailpoint does all of this effectively.
Users can autonomously manage their online digital identities while monitoring who has access to which tools and how they are being used.
There is no price publicly shown when it comes to pricing, but all we can say is that there isn't any free trial that the software offers.
10) Beamy 

Beamy is a SaaS management software that assists large companies in effectively managing SaaS applications. Key features with Beamy include an application directory, a software that complies with GDPR and comprehensively tracks the optimization level of all actions performed.
Furthermore, this software is good in optimizing technological costs in the system that helps reduce your overall costs. Other great features that Beamy offers are:
* Spend management
* Renewal management
* Vendor management
* Shadow IT detection
* License management, and much more
Pricing with Beamy is not publicly available, so you need to request a demo and speak directly to the sales managers to find out.
11) Snow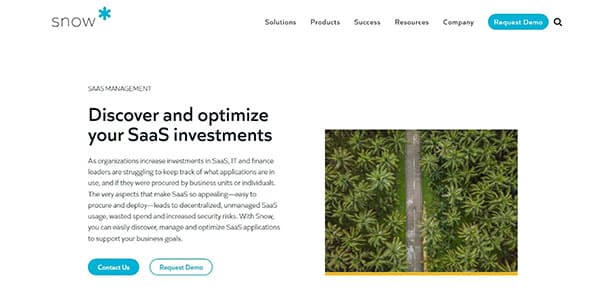 Snow is a SaaS management software that has been specially designed for lowering risks that are associated with managing IT assets. Snow provides you with in-depth analytics for all IT operations and technological uses across the company.
Moreover, the software helps you reduce complexities that arise with licensing. The pricing of Snow isn't available publicly, and there aren't any free trials given by it to test before deciding if it's the right software or not.
12) Asset Sonar 
Asset Sonar is a SaaS management software that allows you to set up an IT asset database and effectively manage your devices across the company. Moreover, you can set up alerts for any payment's renewals, track license utilization patterns, optimize the amount spent for SaaS, and much more.
The best features that come along with the software are:
* Maintenance management
* Inventory management
* Procurement management
* Supplier management
* Audit management and more
Pricing with Asset Sonar starts free and gives you a 10% discount if paid annually. Paid plans will vary depending on how many devices you use, and the number of admins (users) peruse.
Wrapping it up
That's it for this article. These were our top 12 SaaS software you can use for data management. Data management can get complex when you have to manage it manually, especially when managing a large organization. Hopefully, we have clarified many things, but the final choice is up to you.
What is left to do is for you to firmly analyze each of the SaaS management software we have presented and see which one best fits your preferences. Read carefully and even go into more in-depth research of each software you think is suitable for you. After all, there's no need to rush, and your choice will depend on numerous factors and the number of financial resources you possess within your company.