Importance of Creating a Social Media Marketing Strategy for Small Businesses Today
Customers don't find you, you find them. 
This line stands true, especially if you are a small business.
Since you've newly ventured into the business space, you want to get potential customers under the radar. To do so, you consistently have to try out new ways of building connections with the audience until they become your customers. Social media bridges that gap and helps you build those connections.
Among the (71%) of SMBs that use social media to market themselves, how do you decide if your business is growing on social media? It eventually comes down to numbers, right?
For example–you are a new fitness brand and want to create brand awareness on Instagram. There must be that one lingering question – how to grow your Instagram following? The answer is to create a well-thought-out plan before incessantly starting to post on Instagram. A strategy will give you a blueprint of how you want to promote your business before doing so.
The article will let you know why creating a social media strategy will give you measurable results.
However, before moving on with it, let's understand what all is included in a solid social media strategy:
What makes for a solid social media strategy?
Goals -> Know the audience -> select social media channels -> Improvize
The above mentioned are four significant steps in order to achieve a solid social media strategy.
You know your marketing strategy is working well if you see an increase in reach, engagement and number of people following your channels. Well, you will achieve these results if you have clarity while creating the strategy from step 1.
Let's take a look at all the steps:
Have specific business goals
If your business goals align with what the audience wants, then half the work is already done. So, the first step to creating a social media strategy is to be sure of your business goals. Because if you aim to sell today, you need to connect well with your audience. So, you need to have crystal clear expectations for marketing your business on social media.
Your business goals can include something as generic as–what is it that I want to sell? to something as specific as–who do I really want to target for my products? Only if you have spent the time jotting down the specific business expectations, can you measure business growth.
Know your audience
This is a tricky one given the fact that viewers' preferences are more dynamic today than ever. A video you posted might cross a million on a good day while it may not even cross 100 views on the other.
Knowing your audience takes two things–consistency and time. Once you have your business goals chalked out, you need to maintain consistency in posting. Plus, there needs to be an analysis of what content worked and what did not. Done over time, you will get an idea about who your audience is and what you want to show them.
Needless to say, experimentation is key.
Also, the audiences for Instagram and Facebook might be different so you need to have specific strategies for each social media platform. Analyze what works on which platform and keep at it.
Select social media channels
This is an important one. Today, each social media platform caters to a specific set of people which is why different businesses use different social media platforms. You need to know which social media channels will help you achieve your business goals.
For example–if you want to post a fashion video, then choosing Instagram would be an appropriate choice since it is one of the most engaged platforms among millennials and GenZ.
As seen from the graph above, Instagram has the highest number of people belonging to age 18-34.
Similarly, you need to know the type of audience on each platform and then decide for yourself which platform will suit your requirements.
Analyze audience retention
How do you know if you are reaching the audience through your posts? This is when metrics come into the picture. Just like how social media strategy provides you with a clear path, metrics show you how you are doing on these platforms.
Here's a list of social media metrics that you should keep an eye on:
* Brand awareness
* Reach
* Audience growth rate
* Engagement
* Lead generation
* Sales generation
While lead and sales generation come much later, you need to consistently keep an eye on these metrics so that you can predict potential reach based on dependable data.
Improvize
Strategizing is never a one-time thing. After you learn about your audience's response to your content, you will know if you need to re-strategize and make some amends to your strategy.
Based on the analytics, you will know what type of content is enjoyed the most by your audience and you can make more of such content.
These steps ensure you create a social media strategy, however, the real question still remains–why is it needed especially for small businesses today?
Let's have a look at five reasons for having a social media strategy for small businesses.
5 Reasons to Create a Social Media Strategy for small businesses
Brand awareness
Target the right customer at the right time with the right message. 
For small businesses, growing brand awareness is a crucial step. Only when more and more people will be talking about you, will you gain more following on social media.
In this day and age of mobile phones, it is easy to connect to potential customers via social media. But timing also plays a huge role. You want to hook the viewer at the right moment with the right content. What is the right content though? Something that hits audiences' pain point and resonates with them.
80% of social marketers believe their key strategy is to increase engagement across social channels. This shows that social media helps small businesses find their communities. You need to figure out ways to present yourself differently than other businesses. Doing so, as a small business is relatively easier since every small business has a different audience.
You can create and run ad campaigns on social media channels or customize that trending reel on Instagram as per your business needs and post it. These are generic ways to create brand awareness, but if you know how you want to sell your brand story, you will definitely gain more numbers.
Personalization
This could be used as a huge advantage to your business. While small and big businesses differ in terms of hierarchies, review, number of employees, etc. The biggest differentiating factor is personalization. Small businesses are individual, or community focused which allows them to build deeper connections with their customers.
If you are a small business, you are more likely to respond to that customer's feedback on your Instagram page. This comes as a bonus to make the experience as personal as possible for your customers. While big businesses cannot afford to create this type of experience with their customers.
You can also ask customers to post pictures of themselves trying your products out and welcome reviews and comments. Going live with customers again becomes a personalized experience for viewers since you have a limited target audience.
How will this help you grow your business? Well, customers always appreciate timely responses from a business. You can foster connections with all types of audience on social media and give them a familiar experience.
Less payment on advertising
One of the biggest benefits of a small business marketing itself on social media is you don't have to pay a hefty amount to promote yourself. You can pay for advertising features on Facebook but other than that, social media channels are free. This means you only pay for your local customer base.
About 87% of small businesses rely on advertising to grow their business. A successful marketing requires your customers to see the product in different places at different times.
Small businesses tend to focus on a specific set of audience so there is no need to spend thousands of dollars on advertisements to attract audiences from across the nation.
You can simply keep your customers updated through social media without having to pay for any of it. A simple picture of your new product with a catchy caption might just do enough promotion.
Without a doubt, you would want to expand your business and your present customers help you get there. You can advertise to your present customers however, you can also advertise to potential customers.
You can even ask your current customers to post about your products or services on their feed. This will bring your brand to the radar and attract new customers.
Direct traffic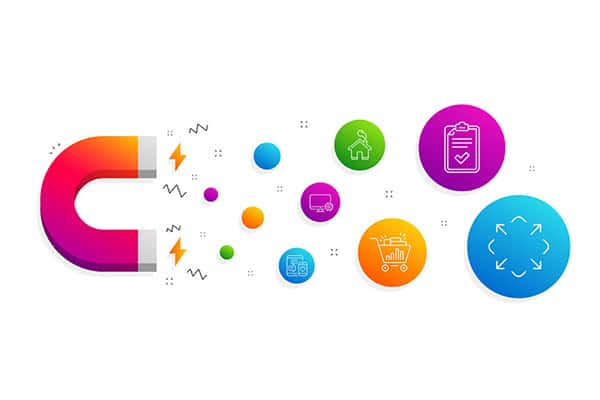 Social media could be a great tool to redirect traffic to your website.
For example–you are an eCommerce store and you want to attract customers. Social media is the easiest way to do so. You can post about your products on your social media channels with a follow link that would redirect the customer to your website. This way, you can divert traffic from social media to your webpage leading to sales generation.
Wrapping up importance of creating a social media strategy for small businesses today
Well, hopefully now you know the why and how of creating a social media strategy. Social media is of essence to small businesses since it is the easiest and most accessible way to reach your audience. Creating a social media strategy and following it will ensure your business has gradual but steady growth.
Reiterating the golden rule–Specific goals -> Know the audience -> Analyze -> Measure results -> Repeat.
You can follow this chain while strategizing for the very first time and keep improving until needed. However, analyzing, measuring results and improving is a constant requirement if you want to one up your competitors.