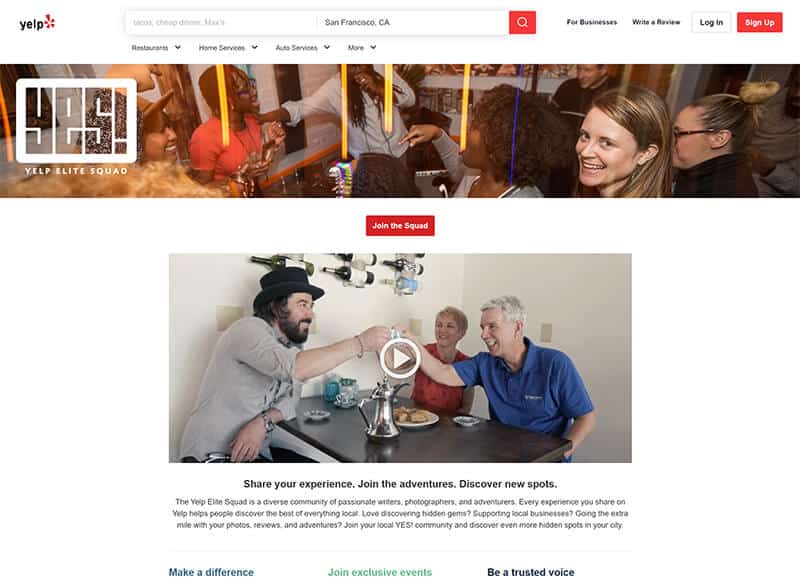 Source: Yelp Elite
Yelp Elite, also known as Yelp Elite Squad is a service provided by Yelp, where user are joining the Yelp community, enjoying and receiving numerous benefits, including exclusive invites to excusive events hosted by Yelp.
The Yelp Elite Squad is a diverse community of passionate writers, photographers, and adventurers. Every experience you share on Yelp helps people discover the best of everything local. Love discovering hidden gems? Supporting local businesses? Going the extra mile with your photos, reviews, and adventures? Join your local YES! community and discover even more hidden spots in your city.
If you own a local business, be it a restaurant, bar, retail store, or even a local service provider, you might have heard of Yelp Elite. This coveted group of "expert reviewers" gets more exposure on their reviews from others.
The Yelp Elite Squad reviews can have a positive or negative impact on your business' reputation, even though negative reviews can help your business seem more trustworthy.
What are the Benefits of Yelp Elite Squad?
Yelp Elite Squad offers "Yelp Elite Benefits" to anyone considered a role model on the site. They achieve this crown by meeting some of the following qualifications:
* Well-written reviews
* A large quantity of both positive and critical reviews
* A complete profile with plenty of high-quality photos
* Detailed personal information
* A background of responding to criticism positively
To become a member of the Yelp Elite Squad, it's clear that you can't simply hop around from restaurant to restaurant offering negative reviews in exchange for free meals. These people are usually food bloggers, photographers, and digital nomads who spend most of their time traveling and sampling the wares at each location.
Why Your Business Should Work with the Yelp Elite Squad?
There are a couple of important reasons why you might want to work with these individual reviews:
Their Status Matters
Obtaining the Yelp Elite status isn't as easy as you think.
These people need to write as many as 40-50 high-quality reviews per year, maintain a large social network of other reviewers, interact with people on the platform, as well as a bunch of other factors to achieve and maintain this status.
What does Yelp Elite Means for Any Business?
Yelp Elite means a lot of exposure if you can provide an excellent experience, allowing you to become the local expert.
Does your business specialize in something? Elite members love going to places where they can get something that isn't available everywhere. It gives them something to talk about in the review.
It's the difference between reviewing a hamburger shop and reviewing a vegan gastropub.
If your business does something a little unique or can generate attention for a specific product, it's worth it to invite a member or a group and knock it out of the park.
Read more here.
Visit Yelp Elite website here.
Learn more about Yelp Ads.
[optin-monster slug="em8z7q6hga9elmy1dbgb"]