Best SaaS Software for Creative Businesses in 2022
The global Software as a Service (SaaS) market is estimated to reach 208 billion U.S. dollars by 2023.
SaaS applications are run in the cloud and usually accessible through desktops and mobile applications, as well as through a web interface.
SaaS products and industries have revolutionized the way companies operate online through the years.
In the present era, it is extremely difficult to locate a company that does not use the strength of SaaS to help them navigate their day-to-day operational processes.
But this cloud-based system is still in its early stages. Given the industry's upcoming expansion, it's only natural to have a glance at some of the best SaaS software on the market.
Take advantage of these services provided by the below-mentioned cloud-based solutions, and observe your creative business skyrocket in 2022 and beyond.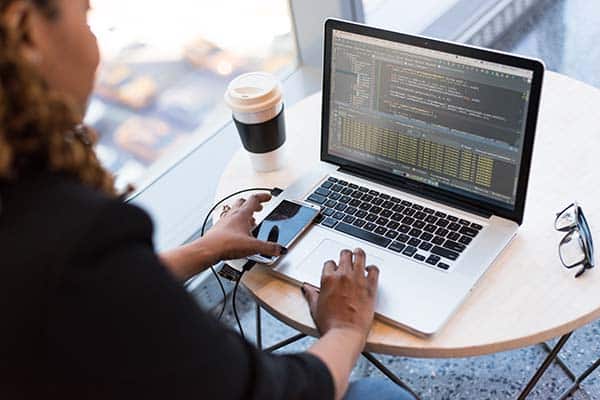 Top 5 SaaS solution providers for innovative organizations in 2022
Here is a rundown of the best five SaaS solutions that are bound to take your business to the next level in 2022 and after.
Adobe was once recognised for its permanent licenced software products, however since 2012, the corporation has been migrating to a software as a service business framework.
That same year, it altered Creative Suite into Adobe Creative Cloud — a cloud-based subscription service that includes all of the development tools a developer might require.
Ever since, Adobe has released a number of popular SaaS products, such as the enormously successful Adobe Experience system.
Features
* Adobe has a large Adobe SaaS application marketplace.
* It lays a strong emphasis on creative designing concepts, user experience monitoring, as well as data analytics.
* Adobe has a significant mobile presence among all hardware and software systems.
* Adobe Sensei is the company's artificial intelligence powerhouse for suggesting and carrying out creative modification.
* The software giant offers enterprise solutions that can be adapted to individual industry sectors.
Benefits
* Adobe caters to a wide range of businesses – innovative and creative consulting firms, small, medium, and big advertising agencies, and organizations with a sizable B2C business are all candidates.
* Adobe is indeed an indisputable dominant player for both B2B plus B2C development as well as marketing and CX management.
* Adobe has achieved remarkable success in cutting-edge aspects such as 3D modeling and AI aka Augmented Reality product developments.
Pricing
Pricing varies depending on the size of the implementation and the application selected.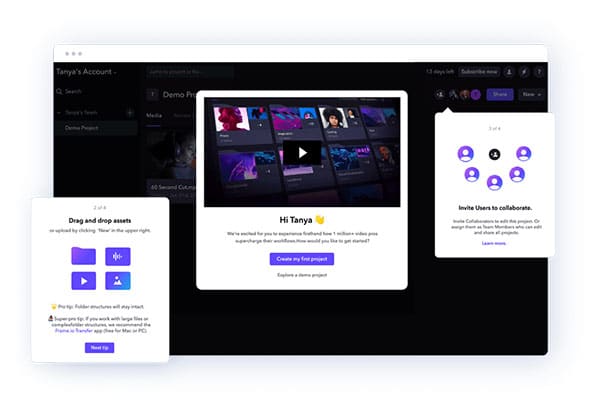 Appcues is an excellent user onboarding software platform that can be used to inform new users, generate new product tours, or guide users through the adoption of new features.
Appcues makes it simple to implement onboarding templates. Additionally, it offers a preset line of thinking about onboarding.
It can serve any firm in need of a scalable SaaS solution for a captivating yet simple product adoption experience. It offers an array of stunning product tours backed by powerful analytics.
However, there are multiple other SaaS solutions that you can compare with Appcues if you wish to make more informed choices.
For more information on the best product tour software, here's Appcues' guide. In this list, you'll be able to compare the features, benefits, and limitations of each solution so you can spend less time doing research and more time making decisions.
Features
* Appcues makes it easy to create flows that contribute to making onboarding easier. These flows are used to design product tours and additional in-app user communication.
* Appcues is best suited for small and mid-sized businesses that require user onboarding solutions.
* It has checklists (available on the enterprise plan), data collection from NPS surveys (with limited analytics sections)
* It also has an events explorer (for tracking feature engagements with no code).
Benefits
* The onboarding application has been on the market for a long time, and it is best known for its power to make product tours with an easy-to-use user interface.
* You can use Appcues to construct and tweak in-app experiences that influence user behavior quickly — with no setup friction, engineering support, or hassle.
* It offers target experiences to the correct customers on time, with detailed insights to track the impact on key segments such as trailers for new users.
* Appcues is a dependable partner with the knowledge and experience, resources, and proven record to assist you in confidently achieving your objectives.
Pricing
* Appcues offers a variety of plans, with the 'Essentials' plan starting at $249 per month – paid annually.
3) Murf AI
MURF AI has been using AI to ease voiceover work. It's a simple do-it-yourself online SaaS tool that also makes it possible to create ultra-realistic voice overs from text and complement the duration of your tone with video content or presentations.
In fact, Murf's text to speech converter is one of our favorites. Murf offers a selection of 100% natural sounding AI voices in 20 languages to make professional voice over for your videos and presentations.
eLearning developers, Youtube stars, podcasters, applications & software demos, brand management, advertising, marketing, IVR phone network, audiobooks, games, explainer videos, and corporate learning are some of the use cases.
Features
* Murf is an AI voice generator that permits conversion of text to speech in 130+ voices in 20 languages.
* You can use custom voices via Voice Cloning.
* The functionality of Teams allows collaboration and access control for both teams and enterprises.
* The AI Voice Changer and Google Slides add on permit you to use Murf voice to create presentation voiceovers.
Benefits
* Murf boasts of AI voices that are ultra-realistic and are used to create voice overs.
* It is a simple do-it-yourself tool for creating voice overs in minutes.
* You can perfectly time your videos and presentations with voiceover and convert your home recording audio to professional AI voices by transcribing it. Text editing can be used to remove unwanted words from your home recording.
* To customize the voiceover, you can use voice styling features such as emphasis, speech, and pitch.
* It is ideal for elearning narrations, explainer videos, voicemail recording, Youtubers, media and advertising agencies, and game voices.
Pricing
Murf's software solutions range from relatively low-cost to high-end, with a free starting plan available.
As per a report on upcoming Saas trends, the entry of AI into the SaaS fray has caused enormous attention, and its disruptive forces are promising to change everything from programs for accounting to CRM.
Freshworks has used this trend to its advantage. Freshworks, which began as FreshDesk in 2010, is a producer of end-to-end product offerings for medium and small businesses.
It provides all of the appropriate tools for employee and customer engagement, including HR enabling technologies and IT managed services tools, as well as CRM, entrepreneurship telephony, plus customer support chatbots.
It even has in-house AI technologies and a market where you can select from a plethora of integrations.
Features
* Freshworks Neo is a unified console for full-fledged CX management
* It offers a considerate selection of products in customer experience, marketing and sales, IT managed services, and human resources.
* It allows collaboration with AWS, Slack, Microsoft, and many others to build a comprehensive entrepreneurial ecosystem
* Freddy AI will provide insightful information, suggestions, and predictive decisions in operational functions.
* Each individual SaaS product has its own pricing.
Benefits
* Freshworks caters to small to medium-sized businesses (especially B2C); corporate options alongside per-user costing are also available.
* Freshworks' business model is delightfully simple, with nine key products segmenting its value proposition: Freshdesk, Freshservice, Freshcaller, Freshchat, Freshteam, Freshping, Fresh Status, Freshsuccess, and Freshworks CRM.
* You can select the functionality you require or prefer for a cohesive client-facing solution via Neo.
Pricing
Freshworks' product suite can be incorporated autonomously, with variable pricing options for small, medium, and enterprise players.
Microsoft, better remembered as the creator of the Windows OS (operating system) as well as the apps Office suite, has made considerable headway into SaaS in recent years.
Its previously permanent license-based software applications are now part of a Microsoft 365 package. This contains not only acquainted desktop toolkits such as Word, Excel, Outlook, and PowerPoint, but it also has web-native SaaS products such as SharePoint & Teams.
Features
* Azure has a subjugated client base aka Windows customers as well as powerful infrastructure abilities.
* A diverse set of productivity apps for small and medium-sized businesses, entities, and sometimes even individual consumers.
* Because of the platform, Microsoft Power, and Enterprise production products such as Microsoft Dynamics, SaaS-based business intelligence are tightly integrated with the organization's corporate cloud platform.
Benefits
* Microsoft serves nearly every single individual or company that makes use of software applications for professional or personal purposes.
* It is suitable for organizations that already rely on Windows.
* Microsoft's main differentiator is its established magnitude of range, coupled with its ever-expanding in-house knowledge and experience.
* The organization has merged data analytics, great UX design, as well as an infinite number of third-party plug – ins to generate a SaaS offering which truly adds value.
Pricing
Microsoft 365, the company's flagship SaaS product, has a regionalized price structure depending on your area and set of features.
Conclusion
SaaS represents a completely new business model, ensuring a steady stream of subscription-based revenue for software vendors and opening the way for shorter release cycles, more augmentation, and better customer relations.
Users benefit from significant expense, time and energy savings, and the capacity to avert vendor lock-in.
The above five companies have been at the front of the bundle, encouraging cutting-edge advancements and a swarm of industry differentiators to make SaaS the fresh standard for digitalization in the future.
Additional Telated Articles:
SaaS Marketing for More Qualified Leads