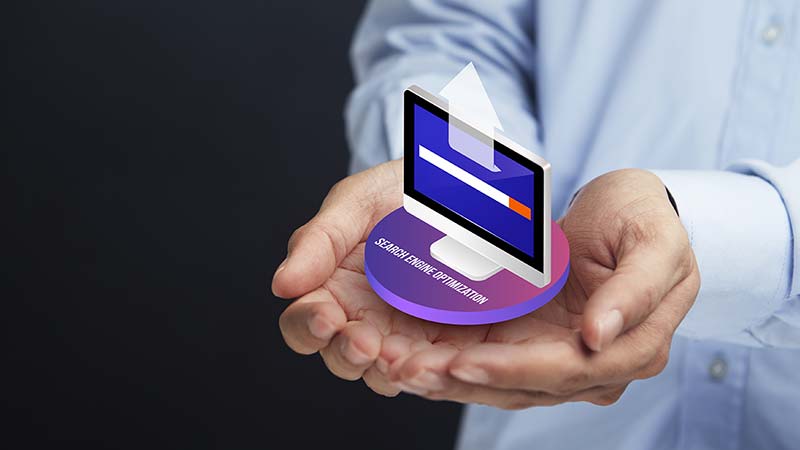 Discover what is SEO vs SEM, how do they differ, what are the similarities for SEM vs. SEO and when you should do SEM and when to choose SEO.
Let's look at the differences between the two channels.
SEM sees clearly marked ads on the SERPs.
You can distinguish a paid placement in the SERPs by the "Ad" icon. Organic listings don't have this, meaning that organic results and paid results look different.
SEMrush Ad Example
As you have probably noticed in the image above, paid ads offer ad extensions that allow you to enhance a standard search (text) ad with site links, callouts, phone numbers, and more.
That said, organic rankings do offer rich snippets. However, with ad extensions, you have far more control over how and when these are displayed.
You Pay for Every Single Click or Impression with SEM
With SEM, an advertiser pays every single time the user makes a click on an ad (CPC – cost-per-click) or for CPM (cost-per-thousand impressions) depending on the type of campaign that you created. Yet, they pay nothing when a user clicks on an organic listing that ranked due to SEO.
SEM vs. SEO: What are the differences?
1) SEM Can Drive Almost Immediate Results. SEO Can't.
You can instantly see results within a few clicks when you an SEM (paid) campaign is live. Your ads will immediately show in the search results (so long as they are approved, and your bids are sufficient).
SEO, on the other hand, can take time unless you have no competition, which is rare. It can take months to see organic results after starting an SEO strategy.
2) SEO Delivers Cumulative Results.
Another key point to make on this is that SEO continues to add value over time, and the return on your investment should be cumulative. Your strategy will build over time and will leave lasting results.
When you invest in SEM, this isn't the case. As soon as you turn your ads off your visibility will stop.
3) SEM Is Easier to Test and Refine Than SEO.
Paid advertising always requires testing. Ad copy will need to be revised, new audiences can be targeted, and you will probably have to change the landing page content for your tests to work.
And with the data that is available, all of this can be done quickly, with changes taking effect quickly and test results back in no time at all.
You cannot test in the same way with SEO, given the nature of the algorithm. Of course, testing does remain a very important part of a solid SEO strategy; it is just not comparable in this way to what PPC allows.
SEM vs. SEO: What are the Similarities?
Let's then look at the similarities between these two channels that are often confused.
Both SEO and SEM:
1) Improve the visibility of your website on the search engines, and both methods will help your site show in the SERPs through the use of targeting and optimizing for keywords.
2) Drive a higher amount of relevant and quality traffic to your site. Both strategies encourage users to click through to your site — albeit one is a paid tactic, the other is organic.
3) Help you gain a deeper understanding of your audience. You need to have a good understanding of your audience for both strategies to be successful.
4) Use keyword research to discover and target relevant keywords. Both require keyword research to understand what your competition is targeting.
5) Require ongoing testing and optimization. Both require continuous monitoring and tweaking to be successful long-term and deliver a solid ROI.
Read more here.