SEARCH ENGINE OPTIMIZATION
What Is Ahrefs
Ahrefs is a popular SEO tool (software suite) that helps you to get higher search engine ranking by providing you with insights on your competitors' website and your website, containing tools for link building, keyword research, competitor analysis, rank tracking and site audits.
Ahrefs is a multinational team headquartered in Singapore, a lean start-up that values making meaningful and easy-to-use products. Ahrefs shift things fast to give our customers what matters most to them and to keep them ahead of the game with a motto saying: "First do it, then do it right, then do it better."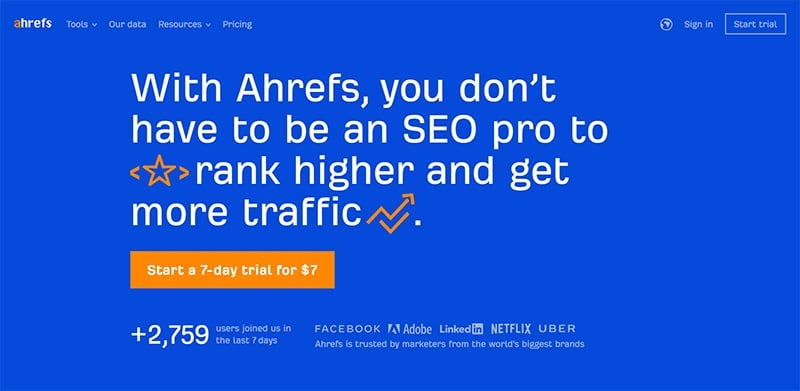 What is Ahrefs Used For?
When you're ready to take your website SEO and your digital marketing plan to the next level, using Ahrefs is the best search engine optimization (SEO) tool for you to achieve high search engine results by taking the Ahrefs insights and data and optimize your website.
What Is Ahrefs Official Website?
Ahrefs official website is https://ahrefs.com/
How to Contact Ahrefs Team?
You can contact Ahrefs using the following information:
Ahrefs Headquarters Address:
Marina One East Tower,
7 Straits View, #08-02,
Singapore 018936
Ahrefs Contact Email: support@ahrefs.com
Ahrefs Phone Number: +1-347-809-6773
Ahrefs Contact Us Form: https://ahrefs.com/#intercom
Ahrefs LinkedIn: https://www.linkedin.com/company/ahrefs/
Ahrefs Instagram: https://www.instagram.com/ahrefscom/
Ahrefs Facebook: https://www.facebook.com/Ahrefs
Ahrefs Twitter: https://twitter.com/ahrefs
Ahrefs YouTube: https://www.youtube.com/channel/ahrefs
Ahrefs Academy: https://ahrefs.com/academy