LINKEDIN MARKETING
What is a Headline on LinkedIn?
Headline on LinkedIn is a text at the head of the personal LinkedIn page where the most important information about the person, a summary who the individual is all about.
As part of your LinkedIn marketing, you need to write a LinkedIn headline that gets people to engage with you is no easy feat. So we've put together 24 LinkedIn headline marketing examples to inspire you.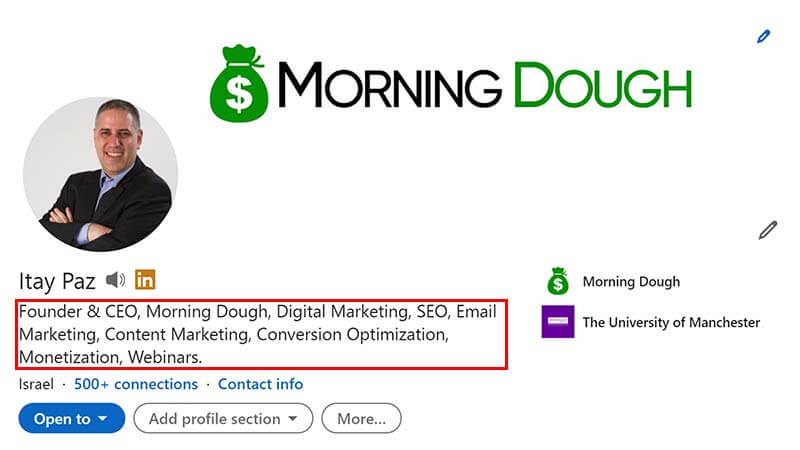 In Search of LinkedIn Headline Marketing Examples?
Admittedly, it's easy to take up a formula for doing something right – in this case writing a LinkedIn headline.
What's challenging is to put that formula into action without looking at some good examples first.
We've done the legwork for you and created this post on LinkedIn headline examples that over 30 social media and marketing experts shared with us. We've also covered what makes a good LinkedIn headline and how to write one properly.
What is Headline on LinkedIn Examples?
There are several LinkedIn headlines including a LinkedIn profile headline, LinkedIn post headline, and LinkedIn article headline.
Here's how each one looks like:
LinkedIn profile headline
A profile headline introduces you, telling what you do. But you aren't limited to introducing yourself formally by sharing your work position. You can humanize your profile headline by sharing your interests and a conversational starter. More on this in the next section.
LinkedIn profile headline example
LinkedIn post headline
This headline is the starting line of a post you make on the network. Like any other headline, this one also serves the purpose of hooking in your audience. It has to be engaging enough to get and hold readers' attention, so they read your content further.
LinkedIn post headline example
LinkedIn article headline
This headline feature on LinkedIn closely resembles a headline of any piece of content. The only difference is that it has to meet the expectations of folks over at LinkedIn. For instance, LinkedIn users love reading success stories or how you did something. So a headline focusing on that can work wonders in getting people to read your article.
LinkedIn article headline example
What Should your LinkedIn Headline Contain?
The underlying purpose of each of the headlines on LinkedIn is the same: to entice the reader to engage with you.
For a LinkedIn profile headline, the aim is to encourage people to connect with you. For an article and LinkedIn post headline, the goal is to get people to read your content and engage with it (like or leave a comment).
Editor's note: Keep an eye on all the people connecting with you on LinkedIn from one dashboard – the LinkedIn (Demographics overview) dashboard. It gives you a breakdown of the folks following you including their industry, company size, age bracket, and more.
LinkedIn (Demographics overview)
Since the purpose of each LinkedIn headline is the same, you need to make sure your headlines contain:
1) A dose of value that tells your readers exactly what they'll get.
2) A sense of urgency so they click to read on.
3) A conversational starter or something that gets people talking (particularly in your profile headline)
4) Selected keywords that when searched for, show you in the results.
Read more here.
Additional Link: