9 Cold Email Tools for Automating Your Sales Campaign
These days, sales campaigns are all about putting out webinars, running social media promotions and creating videos to reach customers. But for veteran marketers, there's still nothing quite like the benefit of doing an email marketing campaign.
In fact, for every dollar you spend on it, you're getting at least $42 in revenue. That's a staggering 4,200% ROI that you won't find in any other marketing campaign out there.
A cold email is your first point of communication to a potential audience. Sounds easy, right? You just need to create some content, send it to your email list and hope for the best.
But for marketers, cold emailing is one of the hardest forms of communication because 1) you haven't built any relationship with your audience yet and 2) you might not get any real feedback from these real people, so you have no way of modifying your strategies fast. The truth is a lot of cold emails fail because they're not done right.
But if you are to automate your sales, you'll need a cold email tool to help you maximize the benefits of sales campaign. Here, we'll talk about everything you need to do about finding the right email automation tool and the nine best tools that we recommend:
What to look for in an email tool?
The first step to a successful cold email campaign is to find the right tool and here are some of the things that you should look for when choosing one:
Email Analytics and Tracking
The only way to know if your cold email campaign is working or not is through analytics. This is why it's very important to find a tool that's capable of providing you tracking and analytics, so you can see bounce rates, email open rates and response rates among other data.
It will allow you to determine if your sales campaign is working or not so you can modify your future emails even if you're not getting any real feedback from your audience.
Email Personalization
Good cold email software should give you the capability to personalize your sales campaign so you can create meaningful connections with potential clients. This increases your chances of moving into your sales funnel by turning these leads into customers.
The extent of personalization will differ depending on the plan you choose, so if you want to be efficient, it's very important to invest in a tool that will allow you to personalize as much of your emails as possible.
Email Automation
Of course, a good email automation tool will allow you to automate your sales process like creating an email list, personalizing your emails, and sending emails and follow-ups on your preferred timeline.
Whether you're doing a simple cold email campaign or doing a drip campaign where one email is triggered by a series of follow-up emails depending on the client's response. You should also look at the ease of use when choosing a tool, so you won't have a hard time figuring out how to run your sales campaigns.
9 Best Cold Email Tools
Now that you know what to look for in an email tool that will help you automate your sales, we rounded up nine of the best tools that you can find on the market today:
EngageBay
(Starts at $8.99/month)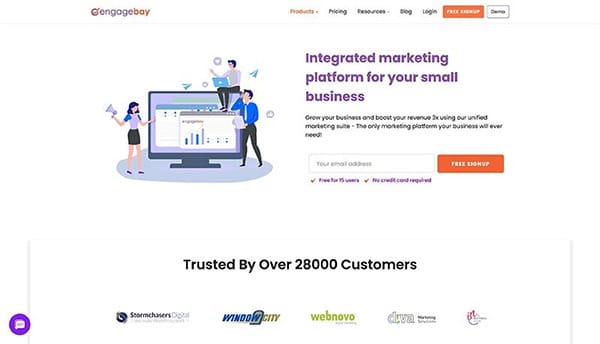 EngageBay is a great tool for many reasons. Aside from offering a free trial, it's also one of the cheapest tools that you can find today. But being pocket-friendly doesn't mean that it's not packed with features.
This simple software is designed specifically for small businesses and start-ups that want to acquire strong leads, engage those leads and eventually, convert them into customers.
It allows you to communicate and monitor your team's activities in one place, track the efficiency of your campaigns and personalize your emails so you can keep the conversation going.
Snov.io
(Starts at $29/month/user)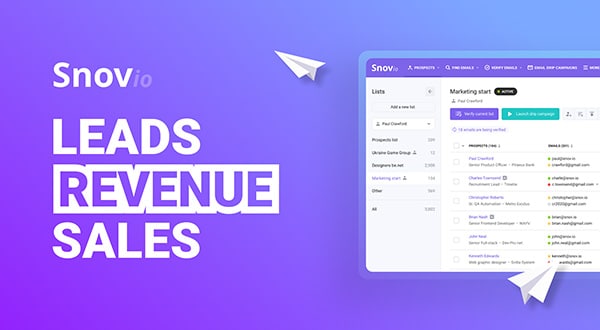 You can't talk about email automation tools without mentioning Snov.io, probably the most popular among all tools you'll find today. From its intuitive interface to its powerful features, Snov.io is created exactly to help make cold emailing convenient for even the most novice marketer.
Aside from automating your campaigns, you can also easily search for qualified emails, create successful drip campaigns, and even verify and filter email addresses on your list.
Perhaps the only downside to using Snov.io is that it lacks an "unsubscribe" link and it doesn't have the ability to detect the most used email address if you're given contact with multiple email accounts.
Prospect.io
(Starts at $19/month/user)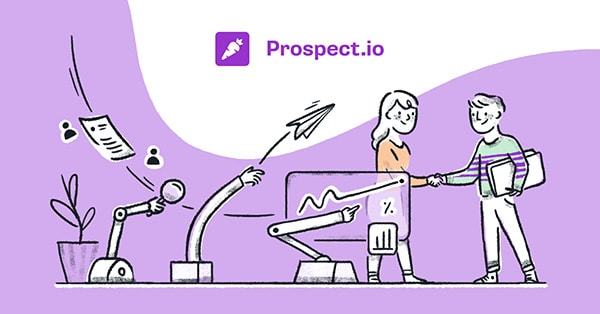 Prospect.io is one of the most popular lead generation and email automation tools out there today. This allows you to not only find the best leads using its intuitive credit-based system but also reach out to these prospects through cold email.
Prospect.io is efficient at searching and verifying email IDs, customize templates and create personalized campaigns that fit your business goals. This tool also works with Outlook and Gmail, and it can be integrated with HubSpot CRM and Salesforce. The only downside to using Prospect.io is that you'll lose any unused email credits in a month.
Woodpecker
(Starts at $49/month/user)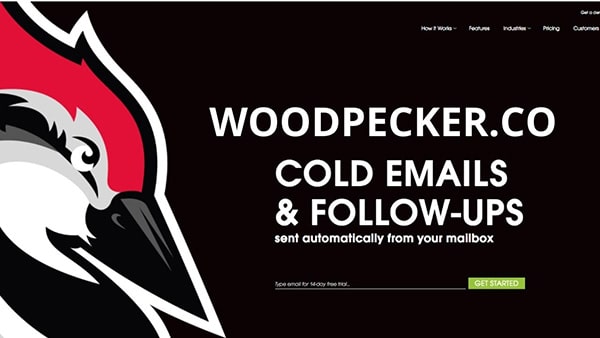 This smart cold email marketing tool is integrated with Outlook and Gmail, so you can easily send and follow-up on emails, and track their progress so you know exactly if you're doing things right or not.
Woodpecker is famous for features like cold efficient scheduling and tracking, automated email sequences, and a dashboard that promotes collaborations within your team. This follow-up tool also auto-detects any duplicate contacts in your lists, although it doesn't allow you to include any mail attachments.
Mailshake
(Starts at $29/month)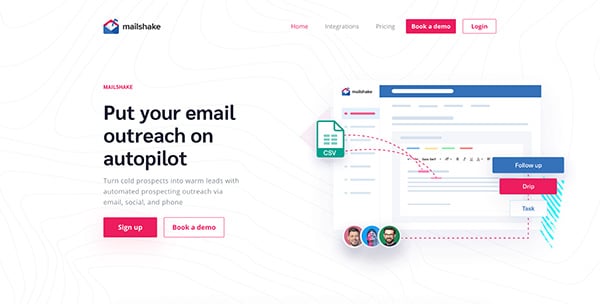 What makes Mailshake unique is the ability to send cold emails from your Gmail account. You can also integrate this software with other tools like Hubspot CRM, Pipedrive, and Zapier to fully automate your sales without spending a lot of money.
Mailshake allows you to do split testing, track your conversions and gather data that will help you determine the efficiency of your campaigns. That is why Milkshake is used by some of the most popular online magazines like HubSpot, Forbes, and The Huffington Post.
The only downside to this cold email tool is that it counts "out-of-office" emails as a lead, which could make it hard for you to filter your list.
Yesware
($19/month/user)
One of the cheapest yet efficient tools to automate your sales, Yesware is basically a sales prospecting tool that allows you to schedule drip campaigns, set reminders for follow-up emails, track emails and even personalize them through custom templates.
This tool also features a campaign dashboard that allows you to view data easily. The only downside to using Yesware is that you have no way of telling who opened an email, especially if you have multiple recipients.
Reply.io
(Starts at $55/month)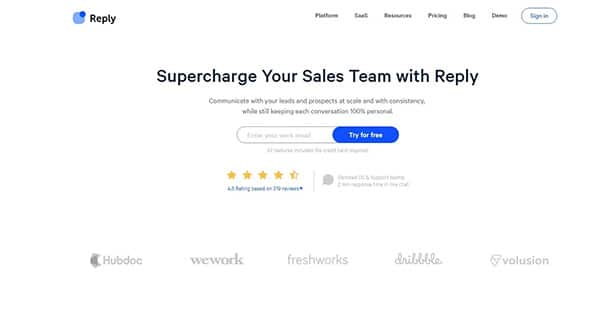 The reply is one of those tools that really give you the most for your investment. With such a powerful reporting system that provides you with all the information that you need to improve your email campaigns, this tool allows you to set up campaigns, do follow-ups and even perform split testing so you can improve conversions. Although Reply is more expensive than other tools based on the number of contacts that you get each month, you're getting a lot of features in just one tool.
Quickmail
(Starts at $49/feature/month)
Quickmail is all about making things easy for you and your team. With the goal of helping you automate your sales, this cold email software is designed to have different inboxes in one place, integrate with Zapier and create email campaigns that give you real conversions.
It also gives you the convenience of managing your entire team's campaigns in a single dashboard and you can completely automate your campaigns so that you don't have to worry about doing everything manually.
Mixmax
(Starts at $35/month/user)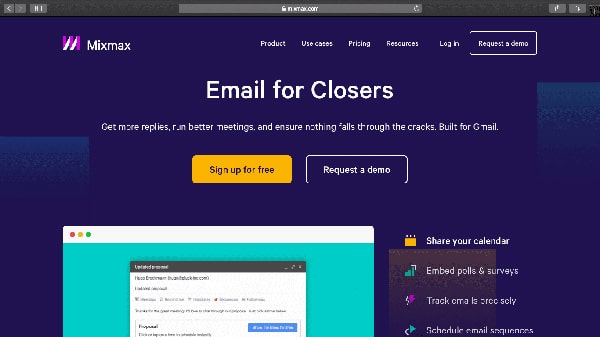 Mixmax is a smart choice for an email automation tool if you like to book regular meetings with your prospects, all because of its strong scheduling features.
This tool is all about promoting consistent communication between you and your prospects, so you'll see that there's a built-in calendar for your meeting schedules, the option to integrate your tool with Salesforce and even some custom templates for personalization. Quickmail also provides detailed analytics, so you can easily evaluate the efficiency of your campaigns.
The Takeaway
If done right, cold emailing can definitely change the way your sales campaigns run. In fact, research revealed that targeted cold emails have an average open rate of 14-23%.
So, if you want to take advantage of the benefits of using cold emails as part of your sales campaign, it's very important to start by choosing the right cold email tool that will allow you to streamline your processes, communicate with your team easily and track your progress so you know what to improve on moving forward.