T-Shirt Templates and Mockups Ready-To-Use Online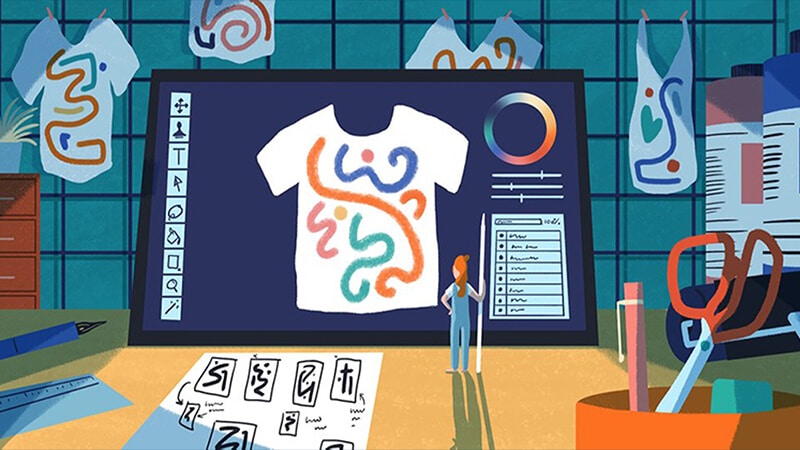 Get access to these amazing online t-shirt mock-ups for your clothing line and downloadable t-shirt template files (PSDs).
You have an amazing online store set up for your clothing line but one thing is missing: equally awesome product shots.
Maybe you're having trouble with product photography, or maybe you're using a print-on-demand service to run your ecommerce store, so you don't actually have any of your shirts on hand.
That's why we wrote this post. We've compiled a list of the best t-shirt templates and mock-ups you can use for your clothing line so you don't have to worry about finding models and perfecting studio lighting.
All you have to do is find a t-shirt mock-up you like and add your design. When you're looking, consider the two types of t-shirt templates available: online t-shirt templates and downloadable t-shirt mock-up files.
What is a T-Shirt Mock-up?
A t-shirt mock-up is a blank slate for designing a t-shirt with your own graphics, pictures, images, words, or branding. T-shirt mock-ups allow you to create a design and put it on a virtual t-shirt so you and your customers can get an idea of what it will look like in real life. T-shirt mock-ups might be flat lay or on a ghost mannequin or real model.
When you design your own mock-ups, you might download a t-shirt outline and build your design within those confines. However, that requires some degree of image-editing skills as well as basic knowledge of apparel design. Luckily, those who don't have such skills can use t-shirt design templates and mock-ups, available online. They make the design process much easier.
Online T-Shirt Mock-ups for Your Clothing Line
1) Place.it T-Shirt Mockup Generator
3) Apparel Mock-ups from Printful
4) T-Shirt Mockups from PrintAura
Downloadable T-Shirt Template Files (PSDs)
3) T-Shirt Mockup Template from Tyunderscore
7) Men's Apparel Shirt Templates
8) Tank Top Mockup Shirt Design
9) Graphic Burger T-Shirt Mockup
10) Infinity Color Shirt Mockup
11) Photorealistic T-Shirt Mock-ups
12) Baby Growsuit/Onesie Mockup
13) Vintage and Classic T-Shirt from Pixeden
14) Short Sleeve Dress Shirt Design Mockup
Read more here.
Additional Link:
[optin-monster slug="em8z7q6hga9elmy1dbgb"]