How To Recover More Abandoned Carts by Combining Ads With Email and 7 Other Savvy Strategies to Minimize Lost Sales
In a perfect world, every customer who added products to an online shopping cart would complete the transaction right then and there. In reality, however, an average of seven out of ten consumers leave at some point before finalizing their purchases.
To complicate matters further, there is a distinction between customers who leave after adding items to their carts and customers who leave in the process of checking out. 
A Big Missed Opportunity
Unfortunately, most brands focus their attention on customers who leave during the checkout process, making cart abandonment a frequently missed opportunity. It's even worse for direct-to-consumer (DTC) brands, which see twice as many cart abandoners as checkout abandoners. With online shopping up 30% in 2020 and continuing to climb in 2021, the stakes have never been higher to re-engage consumers who leave items behind in an effort to recover otherwise lost revenue.
Research shows ecommerce brands lose $18 billion a year to cart abandonment. Of course, there are many reasons why consumers leave carts without buying — from sticker shock to lack of trust or payment options to even pesky technical problems. It's worth noting some consumers may still be in the research phase for a particular purchase, too. 
That last reason is why it's so important to stay in touch with customers through a variety of channels — and it's even better if you can supplement that messaging with data about their actual browsing behavior. 
Emails + Retargeting = Cart Recovery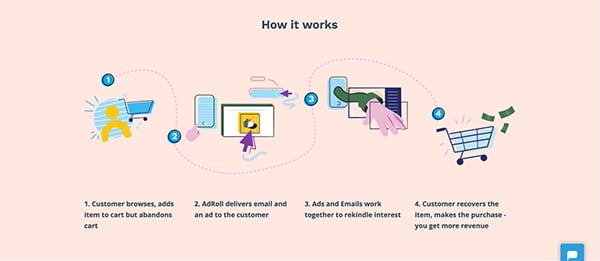 Brands have multiple options to re-engage consumers, including email marketing and retargeting. But it's in combining these efforts that brands have the best chance to boost their overall success. That means recovering even more revenue and collecting better consumer data at the same time.
Email is a more traditional approach to cart abandonment, and it's certainly a useful marketing tactic — but it has some limitations. For starters, brands can only use it to reach consumers who have already shared their email addresses. It also excludes consumers who haven't created and then logged in to site-specific accounts. Research shows that 28% of customers who abandon online shopping carts do so because they have to create an account or share an email address.
And so, by solely using email to reach out to cart abandoners, many recovery solutions are limited. That's why they can only bring back 1.5 out of every three consumers.   
How to Double the Conversion Rate?
By tapping into online display ads through retargeting campaigns, brands can reach some of those otherwise lost consumers. AdRoll offers the ability to retarget cart abandoners with personalized display ads that dynamically adapt content and promotions based on popular products or viewers' past browsing behavior.
Beyond dynamic ads, AdRoll clients can set up automated email campaigns focused on real-time consumer behavior, such as abandoning a cart, browsing and exiting, or being inactive. These automated emails often help provide the additional nudge needed to drive customers back to a cart or product to complete their purchase.
The tactic works — AdRoll customers who combine email and ads see a 2x conversion rate compared to those who see ads alone. That's in part because the strategy extends brand reach from customer inboxes to social networks and millions of other websites. At the end of the day, this widespread messaging encourages customers to return to the carts they left behind, which means more sales and higher revenue.
And while this savvy tactic will undoubtedly help reduce your cart abandonment rate, there are various out-of-the-box ways to minimize potentially lost sales even further.
Use Exit Intent Technology for Last-Minute Offers
One of the main reasons consumers abandon their carts is because of sticker shock when shipping, handling, and taxes are factored in during checkout. That's especially true after Amazon has conditioned more than 150 million Prime members worldwide to expect fast, free shipping — and it puts your site at a disadvantage if you don't.
But few brands have the resources of an Amazon. If your brand can't offer free shipping on every order, one alternative is to implement free shipping on orders above a certain threshold. By implementing this order minimum, you also encourage customers to build bigger carts. And research shows 93% of consumers are incentivized to buy more when free shipping is at stake.
New site visitors may not know about your free shipping policy, however. When they appear ready to leave the site — like, say, by moving their mouse toward the x in the upper right-hand corner, you can trigger what is known as an exit-intent campaign. Here, as the shopper is about to abandon, a pop-up appears with a message about free shipping. Use this gentle reminder as an opportunity to close the sale.
While exit intent campaigns can be incredibly effective, they should be used carefully. They should always be personalized using data on actual consumer behavior, too. If that's the case, it's helpful and gives shoppers the added push they need to convert. If, however, consumers just see generic pop-ups, they are far more likely to be annoyed — and exit for good.
Incentivize Shoppers with Select Freebies
You can also give customers who are still on the fence a little nudge toward conversion with exit intent-triggered pop-ups offering promo codes or free gifts. Bear in mind research shows free products drive twice as many conversions as discount codes, which you should remember when deciding what precisely to offer and when.
You should also use this tactic strategically as you don't want to train shoppers to abandon their carts for free stuff — or decrease the perceived value of your brand. Otherwise, it just becomes a race to the bottom on price, and Amazon has already mastered that art.
Instead, use basket value as a barometer that determines which incentive to offer cautious customers. High-value baskets — let's say over $100 — merit a free gift like a sample-size product or an accessory, while baskets under $100 are more suitable for the promo code incentive. You can also encourage those shoppers to build bigger baskets by only offering the discount on orders of a certain value. This helps walk the line between offering freebies while also insulating your brand value.
Use SMS Remarketing
We've talked a lot about email remarketing, but a related tactic — SMS remarketing — is far less common. And therein lies a big opportunity.
Text messages offer an immediacy you just don't get with email. In fact, research shows 95% of texts are opened within three minutes.
On top of that, more and more consumers are shopping on their mobile devices, so communicating directly via text is a natural evolution in customer interaction. Use the opportunity much like you would with email remarketing or exit intent campaigns — remind customers about free shipping or offer them a discount to close the sale.
But once again, you have to be tactical in your approach to texting. There's a fine line between being helpful and leaving customers feeling like they're being stalked by a creepy ex. So think of texting as just one more tool in your arsenal to supplement additional cart abandonment tactics for customers who have shared their phone numbers — but only if you send personalized offers and don't text too frequently.
And, of course, it goes without saying that your site should already be optimized for mobile before you implement this strategy. You don't want to send customers to your mobile site only to have a bad experience.
Use Inactivity Sensor Technology to Trigger Reminders
The days of the linear purchase journey are long gone. Now, it's so convoluted and individualized, it's hard to describe what the shape actually is anymore. In short: Consumers are distracted. They may be shopping on your site and then pause to Google something, which takes them down a completely unrelated rabbit hole. The tab may still be open — but they've moved on.
This is where inactivity-based reminders come in. After implementing them on your website, visitors will see pop-ups to re-engage with the brand after they've been idle for a specified time — ideally around 30 seconds or so. This is the gentle shoulder tap that says, "Hey! Don't forget about us!" which reminds the shopper to come back to complete their transaction before they close the tab. Some tools even offer sound effects to really grab shoppers' attention.
Offer Social Proof
Another reason shoppers leave before finalizing a purchase is they're still not sure the product in question is right for them. Help alleviate some of this uncertainty by offering social proof from existing customers. Research shows 61% of customers read reviews during the purchase research phase, and 66% are influenced by social proof.
Platforms like Shopify and Pinterest make it easy for brands to integrate reviews and testimonials. To help hammer home the authenticity of this customer feedback, be sure to integrate badges and certificates from the platforms themselves. Display this information wherever customers are making decisions, such as on category or product detail pages. You can also consider triggering an exit overlay with social proof to further encourage conversions.
This content is valuable because it's trustworthy. After all, it comes from fellow shoppers, not paid influencers, and reflects users' actual experiences.
This shouldn't necessarily be limited to positive reviews either. When you receive a negative review, be sure to respond to that unhappy customer quickly and offer to make things right. This demonstrates to future customers they have nothing to worry about even if something goes wrong because the brand will fix it.
Lean on Chatbots for 24-hour Customer Service
Customers also abandon carts when they have unanswered questions, so simply making your brand accessible can go a long way to minimize this cart abandonment risk factor. If your brand doesn't have a 24-hour-a-day customer service team, consider implementing a live AI chatbot that can respond to FAQs, like shipping cost, returns, and sizes. And make sure to clearly communicate this functionality to site visitors.
Chatbots are also useful when it comes to cross-selling and upselling — and they can help you reduce operational costs by as much as one-third.
Implement Supplemental Tactics
Beyond transactions, brands should also focus on getting emails and phone numbers from customers. Besides emailing (or texting) those consumers about products in their carts, growing your email list allows you to foster relationships and build loyalty. For example, you can use these emails to send an exclusive preview of an upcoming promotion.
 From there, consider creating a newsletter for your email list. Use the opportunity to send product updates along with any additional content your readers will find valuable.
You'll then be ready to incorporate data on shopping intent signals to help better align brand messaging in all channels with what consumers really want. 
After that, you can implement personalized product recommendations on your website. AdRoll clients can feature previously viewed, popular, or most viewed products in a recommendation carousel that easily integrates with virtually any ecommerce site. By suggesting highly relevant products, brands can boost conversion rates — or even cross-sell or upsell to increase cart value. 
Opportunity Recovered
Cart abandonment is a problem for anyone who sells anything online. But it's a problem with a number of clear solutions. By combining powerful marketing tactics — including ads and email — brands can significantly increase cart recovery and revenue, and eventually, customer loyalty. 
Further, exit intent technology fused with the right messaging can help reduce cart abandonment even more. And when you layer on tactics like social proof, SMS remarketing, and chatbots, you may not be able to eliminate abandoned carts entirely, but you can certainly put a significant dent in them. Just remember to always make outreach worth shoppers' while with relevant content that enhances the user experience. Otherwise, you're just adding to the noise.
About the Author
Scott Jones is the Sr. product marketing manager at AdRoll Group.
[optin-monster slug="em8z7q6hga9elmy1dbgb"]